Spesifikasi Produk Printer Canon imageCLASS MF4412
Copier Specification  
Copy Type
BW Laser
Copy Speed
23 / 24cpm (A4 / LTR)
Copy Resolution
Up to 600 x 600dpi
Halftones
256 Levels
Warm up Time
10secs.
First Copy Time
9.0 / 8.7secs. (A4 / LTR)
First Print Time
6.0 / 5.8secs. (A4 / LTR)
Paper Source(s)
250-sheet cassette plus 1-sheet multipurpose tray
Paper Weight
60 to 163g/m2 (cassette and multipurpose tray)
Paper Output
100 sheets (face down)
Zoom
25 - 400% in 1% increments
Copy Size
Platen:Up to A4
Copy Features
Memory Sort, 2 on 1, 4 on 1, ID Card Copy
Copy Memory
64MB (Shared)
Print Memory
64MB (Shared)
Printer Specification  
Printer Type
BW Laser
Print Speed
23 / 24cpm (A4 / LTR)
Print Language
UFR II LT
Print Resolution
600 x 600dpi, 1200 x 600dpi quality
Print Memory
64MB (Shared)
Scanner Specification  
Scan Type
CIS
Scan Resolution
Up to 600 x 600dpi (optical)
9600 x 9600dpi (interpolated)
Colour Depth
24 bits
Document Size 
Up to A4
Compatibility
TWAIN, WIA
PullScan
Yes, USB
Scan To PC
Yes, USB
Interface / Software  
Standard Interface(s)
USB Device 2.0
USB Function
Print, PC Fax and Scan
Operating System
Windows® 2000, XP, Windows Vista®, Windows 7
Mac® OSX *1, Linux *2
General Specifications
LCD Display
5 lines BW LCD
Dimensions (W x D x H)
With the cassete closed:390 x 414 x 301mm
With the cassette opened:
390 x 441 x 301mm
Weightw/ CRG:
10.3kg
w/o CRG:
9.7kg
Power ConsumptionMax: 
1220W
Energy Saver Mode:
3W
TEC
0.7kWh
Toner CartridgeCartridge 328 
- Black: 2,100 Pages (standard) 
- Black: 1,000 Pages (starter)
Monthly Duty Cycle
10,000 pages

*1 = Specifications are subject to change without notice.  Support OS version is v10.4.9-10.6. Mac OS support Scan function via USB only.
*2 =  Linux support printing only.

Ringkasan Produk
64MB RAM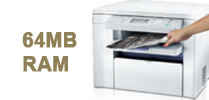 Sebuah cetak bersama 64MB dan memori copy memastikan volume cetak kantor besar yang disampaikan dalam cara yang efisien dan cepat.

kemampuan Warna pemindaian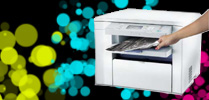 Warna pemindaian CIS memungkinkan printer untuk membuat sangat akurat, scan warna 24-bit dari dokumen Anda dan foto sampai resolusi 9600dpi (interpolasi). Memindai langsung ke PC Anda atau program email, atau membuat dicari, multi-halaman file PDF dan menggunakan perangkat lunak OCR untuk mengambil teks dari dokumen setelah pemindaian.

pencetakan & menyalin Hebat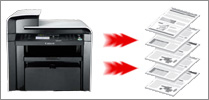 Kecepatan dan kualitas membuat kombinasi yang ideal. The imageCLASS MF4412 dapat mencetak atau menyalin sampai dengan 23 halaman per menit pada resolusi hingga 1200 x 600dpi dengan Automatic Image Refinement. Kecepatan menambah lebih lanjut ke First Out Waktu (FCOT) hanya 9 detik.


Review
Kinerja yang ditawarkan perangkat ini mampu menjadikannya yang terdepan dari sisi kecepatan maupun kualitas. Ini berlaku untuk fungsi printer, copier, serta scanner.
Canon berhasil menerapkan solusi cetak yang bagus dengan menggunakan metode yang sedikit berbeda. Sekadar informasi, printer laser umumnya menggunakan metode Roller-Fixing yang membuat proses pemanasan (warmup) menjadi lama.

Nah, Canon mempertahankan penggunaan teknologi unggulannya yaitu menggunakan metode On Demand-Fixing. Metode ini lebih efektif dalam hal mempercepat proses pencetakan. Pasalnya, pemanasan roller telah diganti dengan keramik yang menempel pada drum dan hanya akan aktif saat mencetak saja. Keuntungan lain yang didapat berupa panas yang lebih sedikit dan juga penggunaan daya yang lebih efesien.

Dari sisi feature, iC MF4412 merupakan perangkat multifungsi standar untuk memenuhi kebutuhan cetak yang lebih sederhana. Hal ini dipertegas dengan hanya disertakannya fungsi print, scan dan copy, tanpa faksimili. Koneksi ethernet yang biasa digunakan untuk jaringan juga tidak disediakan. Fungsi duplex pun tidak ada.

Meskipun sederhana dari sisi feature, jangan ragukan kemampuannya. Pengujian pencetakan dokumen mulai dari teks, dokumen dengan gambar hingga gambar berukuran A4 dilakukan dalam waktu yang sangat cepat. Lihat saja untuk sebuah dokumen berbasis teks saja, FPOT (First Print Out Time)-nya ditempuh dalam waktu 6 detik. Sebagai catatan, itu merupakan waktu tercepat yang pernah kami uji. Perangkat ini tidak hanya bergelar tercepat pada fungsi sebagai printer saja, melainkan juga pada fungsi copier dan scanner.

Selanjutnya Anda pasti bertanya bagaimana dengan kualitasnya. Berdasarkan pengujian, dokumen berbasis teks dan gambar tampil solid hingga font berukuran kecil. Sayangnya, saat mencetak gambar berukuran besar (A4) terlihat adanya sedikit gradasi meskipun tidak mengganggu. Hasil cetak fotokopinya terlihat lebih pekat namun jelas terutama saat mencetak dokumen yang memiliki gambar.  

Untuk menjalankannya sebagai scanner, diperlukan bantuan aplikasi. Dengan aplikasi MF Toolbox, pindaian bisa disimpan ke format gambar warna maupun hitam. Ekstensi yang didukungnya yaitu PDF, BMP, JPEG/Exif dan TIFF untuk gambar warna, dan BMP, TIFF dan PDF untuk gambar hitam (BW). Proses pemindaian mode warna dan BW memiliki waktu yang berbeda namun dalam waktu yang relatif cepat. 

Canon imageCLASS MF4412 berhasil menjadi yang tercepat selama pengujian yang pernah kami lakukan. Feature-nya yang sederhana tidak membuatnya tampil asal-asalan. Kecepatannya ditunjang pula dengan kualitas yang baik. Jika Anda mencari perangkat multifungsi bagi aktivitas cetak yang tidak terlalu komplek, Canon imageCLASS MF4412 bisa menjadi pilihan yang bagus