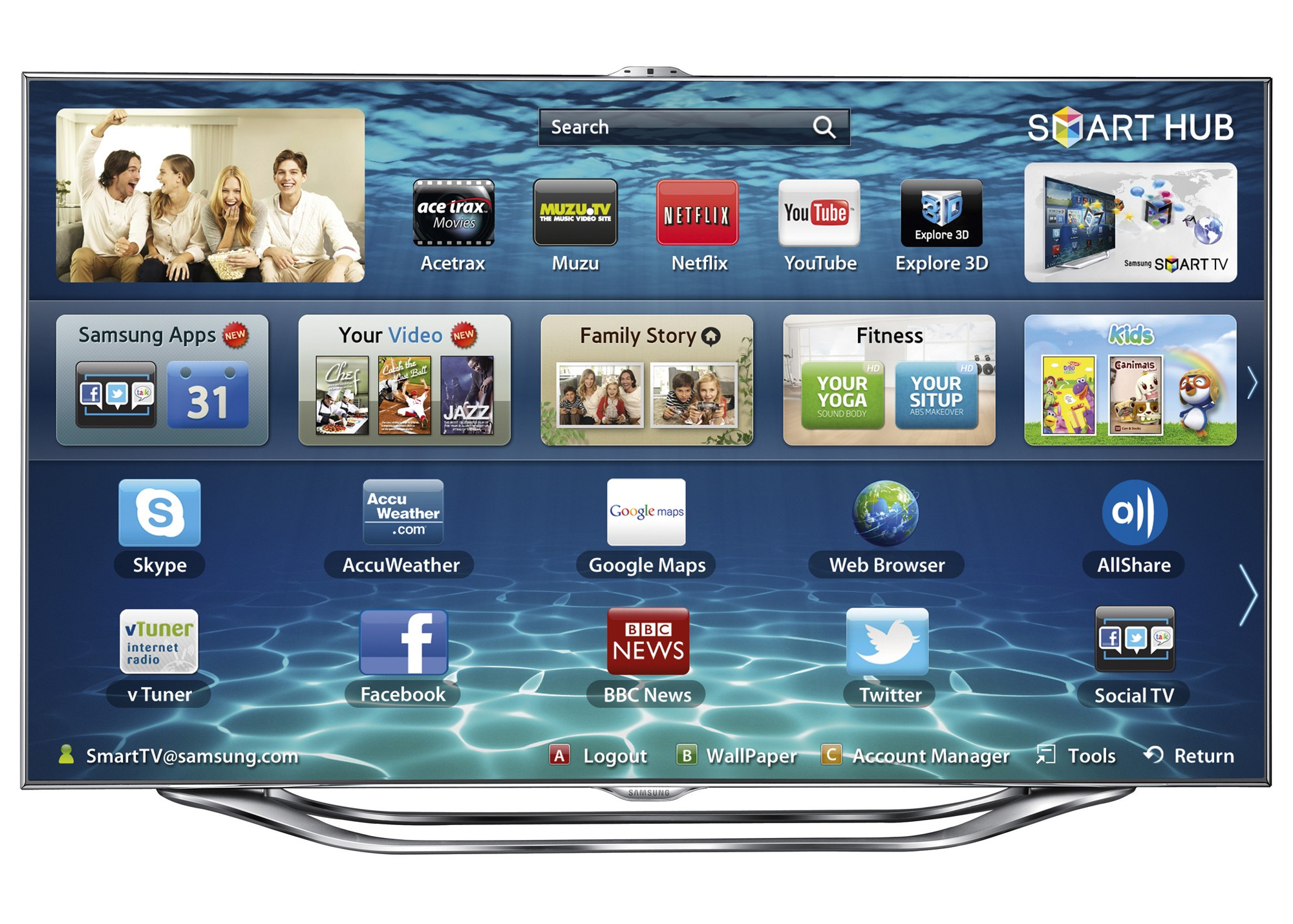 Specification Samsung Smart TV Slim LED ES8000
Samsung Smart TV Slim LED ES8000 hadir untuk memberikan pengalaman luar biasa yang akan membawa Anda ke masa depan Home Entertainment. Temukan masa depan Smart TV dengan Smart Interaction Voice, Face recognition dan Motion Control begitu juga dengan fitur Smart Content seperti berbagi Family Story dan akses AllShare ke berbagai perangkat. Dengan Smart Evolution, Anda dapat dengan mudah menginstal Samsung Evolution Kit setiap tahun untuk mengupdate hardware, firmware, software dan interface yang paling canggih. Samsung Smart TV Slim LED ES8000 Anda akan berevolusi, dan Anda akan menikmati semua fitur dan performa baru yang luar biasa bagaikan Samsung Smart TV Slim LED ES8000 baru.


Intuitive interaction with voice and motion control


Teknologi baru Smart Interaction yang canggih dari Samsung Smart TV Slim LED ES8000 memungkinkan Anda untuk mengoperasikan Samsung Smart TV Slim LED ES8000 tanpa menekan tombol. Anda dapat dengan mudah mengontrol fungsi-fungsi seperti menyalakan atau mematikan Samsung Smart TV Slim LED ES8000, mengubah saluran, mengakses aplikasi dan menelusuri web dengan menggunakan perintah suara yang sederhana dan gerakan. Kamera built-in dengan teknologi Face Recognition memungkinkan Anda masuk ke Smart Hub dan akun pribadi tanpa perlu mengetikkan ID atau Password. Sebuah pengalaman baru yang menarik untuk berinteraksi dengan Samsung Smart TV Slim LED ES8000.


Kami merekomendasikan menggunakan Smart touch Control untuk fungsi kontrol suara

Voice interaction tidak tersedia di semua bahasa, dialek dan wilayah.

Performansi sesungguhnya dapat bervariasi, tergantung pada bahasa yang diucapkan

Beberapa fitur dalam Smart Interaction mungkin memerlukan akses Internet.

Smart Interaction mungkin tidak tersedia dalam semua bahasa / dialek dan wilayah.

Face Recognition tidak menyediakan keamanan login tingkat tinggi dengan ID dan password.


Enjoy smarter viewing with enhanced content and features


Masuki dunia hiburan online dengan konten baru yang tersedia melalui tiga layanan utama Samsung Smart TV Slim LED ES8000 - Kids, Fitness dan Family Story. Aplikasi Samsung Smart TV Slim LED ES8000 Kids merekomendasikan beragam program anak untuk menikmati proses belajar dan bermain yang menyenangkan, Samsung Smart TV Slim LED ES8000 Fitness menyediakan program olahraga melalui layanan video-on-demand sehingga olahraga menjadi mudah dan menyenangkan dan Family Story memberikan kemudahan berbagi bersama keluarga seperti meng-upload foto ke galeri dari ponsel serta chatting dalam waktu yang sama.


Konten yang tersedia melalui Smart Hub dapat bervariasi diantara kategori produk, model, dan wilayah. Lihat Samsung.com untuk lebih jelasnya.

Beberapa fitur Smart TV mungkin memerlukan upgrade firmware.

Fitness Service mungkin tidak tersedia dibeberapa wilayah.


Renew your TV, every year


Perbarui Samsung Smart TV Slim LED ES8000 Anda agar selalu ter-update dengan teknologi terbaru sekarang menjadi kenyataan. Samsung Smart Evolution sepenuhnya merancang Samsung Smart TV Slim LED ES8000 Anda tanpa harus mengganti seluruh set. Cukup pasangkan Samsung Smart Evolution Kit dan biarkan keajaibannya bekerja. Mengubah dual core CPU Samsung Smart TV Slim LED ES8000 Anda ke generasi lebih cepat dari teknologi quad core. Meningkatkan pengalaman menonton Anda dengan mengubah resolusi VOD HD Samsung Smart TV Slim LED ES8000 dengan kualitas gambar Full HD yang menakjubkan. Menambahkan lebih banyak fungsi dan menambahkan konten lainnya pada televisi Anda. Akses dunia baru yang interaktif dan fitur yang baru. Smart Evolution Technology benar-benar memberikan Anda Samsung Smart TV Slim LED ES8000 baru setiap tahunnya.


Smart Evolution Kit, dijual terpisah, akan tersedia pada tahun 2013

Kinerja yang sesungguhnya bisa beragam dan tergantung dengan spesifikasi model dan keterbatasan hardware

Peningkatan Smart Evolution Kit tergantung pada tahun pembelian

Gambar Smart Evolution kit dapat berubah saat diluncurkan


Complete your viewing experience with ultimate picture quality


Maksimalkan kesenangan Anda menonton dengan kualitas gambar yang superior untuk pengalaman hiburan yang lebih realistis dan begitu tajam. 960Hz Clear Motion Rate menampilkan gerakan halus, sehingga Anda dapat menikmati gambar yang bergerak cepat dengan kejernihan yang mengagumkan. Anda dapat melihat gambar 3D yang spektakuler dalam Full HD 1080p, dengan kacamata 3D Samsung terkini. Dengan algoritma Micro Dimming terkini, akan meningkatkan kontras, warna dan ketajaman, yang membuat Anda terkagum-kagum.


Revolutionary TV design that catches your eye that transforms your living


Ubahlah tempat tinggal Anda dengan desain yang canggih mempesona. Estetika elegan Samsung One Design meliputi bezel tipis untuk pengalaman yang lebih luas dan mendalam. Dengan tampilan melengkung ramping dengan penyangga inovatif yang menampilkan maha karya yang mengagumkan.


Share, store and enjoy content – it's easier than ever


Nikmati pengalaman menonton yang lebih intuitif dan nyaman berkat konektivitas yang lebih pintar. Anda dapat men-streaming dan berbagi musik, foto, film dan file multimedia lainnya langsung ke Samsung Smart TV Slim LED ES8000 Anda dengan AllShare Play dan menikmatinya pada layar yang lebih besar. Built-in Wi-Fi memungkinkan akses ke berbagai perangkat yang kompatibel di dekatnya, termasuk perangkat mobile. Dengan teknologi cloud based, Anda dapat menyimpan sebagian besar konten Anda jauh dari rumah. Berbagi dan menikmati multimedia dengan mudah dengan koneksi yang lebih baik.





Product
    Slim LED


Audio
    3D Sound available
    Dolby Digital Plus / Dolby Pulse
    DNSe
    dts 2.0+Digital Out available
    10W x 2 Sound Output (RMS)
    Down Firing + Full Range
    Yes available


Desain
    Metal
    TBD
    Light Effect (Deco) available
    Arch flow Stand
    D1 Bezel Type


Berat
    16.6
    19.3
    25.4


Smart Convenience
    Personal Video Recorder Ready available
    Time Shift Ready available
    ConnectShare™ Movie (HDD)
    Smart Phone Remote supported
    BD Wise available
    Game Mode available
    Anynet+ (HDMI-CEC) available
    Picture-In-Picture available
    Local Languages


Smart Evolution
    Smart Evolution Ready available


Seri
    LED Seri 8 UA55ES8000M


Konektivitas
    3 HDMI
    3 USB
    1 Headphone
    Wireless LAN Built-in available
    Component In (Y/Pb/Pr) x 1 ea
    Composite In (AV) x 2 (1 Common Use for Component Y) ea
    Digital Audio Out (Optical) x 1 ea
    RF In (Terrestrial / Cable input) x 1 ea
    DVI Audio In (Mini Jack) x 1 ea
    Ethernet (LAN) x 1 ea
    MHL x Yesxea


Daya
    AC220-240V 50/60Hz Power Supply
    Eco Sensor available
    Auto Power Off available
    Under 0.1W
    Clock & On/Off Timer available
    110 W Typical Power Consumption
    Sleep Timer available


Aksesoris
    4 3D Active Glasses included
    Smart Touch Control included
    TM1290, TM1250B Remote Controller
    IR Blaster included
    Batteries (for Remote Control) included
    Ultra Slim Wall Mount Supported
    Vesa Wall Mount Supported
    Slim Gender Cable 1 AV included
    Power Cable included
    User Manual included
    E-Manual available
    Mini Wall Mount Supported


Smart Convergence
    Allshare (Powered by DLNA) available
    AllShare Play available
    Samsung SMART View available
    WiFi Direct available


3D
    3D available
    3D Converter available
    3D Sound available


Video
    55 inch
    1,920 x 1,080 Resolution
    Wide Color Enhancer Plus
    Ultra Clear Panel available
    Yes available
    800 Clear Motion Rate
    Micro Dimming Ultimate


Fungsionalitas Smart TV
    Samsung Apps available
    Yes available
    Samsung SMART TV available
    Yes available
    Search All available
    Yes available
    Skype™ on Samsung TV available
    Smart Hub available
    Social TV available
    Web Browser available
    Your Video available


Dimensi (PxLxT)
    1230.3 * 722.3 * 30.8
    1230.3 * 761.6 * 210
    1349 * 873 * 259


Smart Content
    Yes available
    Recent History available


Smart Interaction
    Camera Built-in available
    Face recognition available
    Motion control available
    Voice Control (Embedded) available
    Voice Control (Server) available
    Camera App available
    Samsung TV Apps supported


Tuner/Broadcasting
    DVB-T/C
    Analog Tuner available
    EPG available
    Auto Channel Search available
    Teletext (TTX) (1,000 pages) available
Note
Fitur dan spesifikasi dapat berubah tanpa pemberitahuan terlebih dahulu.