Specification Sony Tablet S - 32GB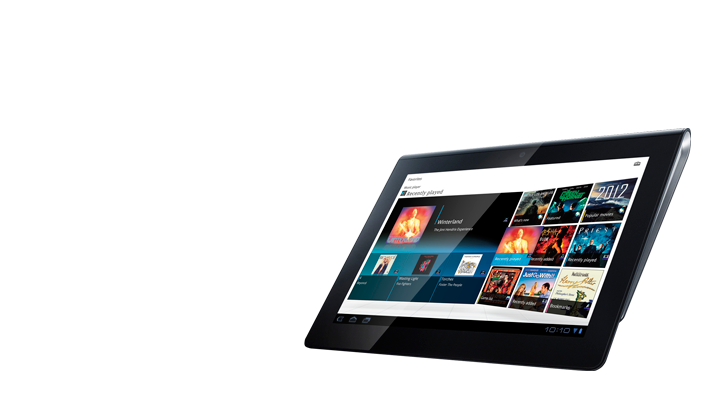 pro
Ini merupakan tablet Android sangat baik dibangun dengan semua fitur praktis yang diharapkan ditambah Sony PlayStation sertifikasi.

kontra
Internet tersedia melalui Wi-Fi tetapi tidak mobile broadband.

Putusan
Meskipun kurangnya akses mobile broadband, ini adalah tablet besar bagi produktivitas, komunikasi dan game.

Pusat Barang Elektronik
Baru & bekas, mulus, harga pas di Situs jual / beli Elektronik terbesarnya
www.klikglodok.com
fitur
Sony Tablet S olahraga cukup beberapa fitur yang merupakan campuran praktis dan sangat keren. Fitur praktis biasanya disertakan dengan Android 3.1 Honeycomb, seperti desktop seperti pengalaman, tab browsing, video chat, Google Talk dan banyak lagi. Plus, Tablet S berfungsi sebagai remote control yang luar biasa universal, sehingga Anda dapat mengendalikan TV, pemutar disk dan banyak lagi. Anda dapat mengakses aplikasi lebih dari Android Market.

Fitur keren meliputi:
Akses ke Video Unlimited, yang memungkinkan Anda untuk membeli atau menyewa berbagai film

Sony eBook aplikasi dan akses ke Store Reader untuk membeli buku

Music Unlimited untuk sebuah perpustakaan besar musik dari semua label besar, yang merupakan layanan streaming

Sony Entertainment Pack, dengan permainan seperti menyenangkan dan populer "Crash Bandicoot," keanggotaan terbatas bebas Music Unlimited dan Video Unlimited dan lebih

Anda juga dapat melakukan streaming konten ke berbagai TV dan perangkat lainnya, seperti fitur diputar Apple ditemukan pada perangkat IOS

Sebagai bonus, S Tablet adalah Sony PlayStation Bersertifikat unit - tablet pertama untuk mencapai-sertifikasi ini - sehingga Anda dapat bermain game seperti yang disebutkan di atas "Crash Bandicoot," bersama dengan "Pahlawan Pinball" dan judul klasik online lainnya.
Perangkat keras
Sony Tablet S adalah unit kokoh, tegap dan ringan, didukung oleh dual-core, prosesor NVIDIA Tegra 2 1GHz. Menawarkan beberapa pilihan memori bagus baik 16GB atau 32GB, harga $ 499 dan $ 599, masing-masing. Ini perlu ekstra $ 100 untuk mendapatkan lebih banyak ruang untuk musik, video, foto dan banyak lagi. Harga tidak membuat pesaing benar di antara tablet Android lain atau iPad, tetapi merupakan satuan baik dibangun. Ada memori internal 1GB, yang membantu dengan kecepatan.

Anda dapat dengan mudah terhubung ke internet melalui Wi-Fi, yang merupakan 802.11 b / g / n, sehingga Anda memiliki teknologi nirkabel terbaru, bersama dengan Bluetooth 2.1 + EDR. Namun, tidak ada cara untuk terhubung ke jaringan selular untuk internet 3G atau 4G, yang sedikit tidak biasa. Beberapa orang mungkin melihat ini sebagai masalah, sedangkan yang lain mungkin lebih memilih untuk menghemat uang dengan tidak harus kontrak mobile.

Ini tablet 9,5 inci, 6,8 inci dan 0,3 inci tipis ukuran. Beratnya di sebesar 1,3 pon yang cukup khas perangkat dalam kategori ini. Secara keseluruhan, itu bagus untuk tahan selama waktu yang lama dan mudah untuk membawa sekitar.

Port I / O (input dan output) termasuk headphone jack, Micro USB port dan pembaca kartu USB. Anda dengan mudah dapat mentransfer data ke dan dari kartu SD ke dalam slot, berkat aplikasi khusus.

Tampilan
Layar pada Sony Tablet S mereproduksi warna, video dan foto dengan baik, tetapi bahkan pada tingkat tertinggi dari kecerahan, tampak hanya redup sedikit dibandingkan dengan tablet serupa. Tablet ini menggunakan Sony teknologi TruBlack - ditemukan di baris populer Bravia perusahaan - di layar, memberikan Tablet S keunggulan tambahan dalam kualitas gambar.

Resolusi adalah 1280 x 800 pixel, sehingga Anda mendapatkan sedikit lebih baik dari 720p resolusi tinggi (HD) definisi. Layar 9,4 inci tinggi, yang hanya sedikit lebih kecil dari ketinggian unit, sehingga Anda tidak akan merasa seperti Anda sedang kehilangan real estate layar.


Kemudahan Penggunaan
Sony Tablet S adalah sebuah tablet cukup cepat, dan tidak ada masalah tertinggal di mana ia akan merasa bahwa perangkat lunak sedang mencoba untuk bersaing dengan apa yang Anda lakukan. Jika Anda memiliki koneksi internet lambat, Anda mungkin melihat beberapa masalah di sana, tapi secara keseluruhan, ini adalah perangkat yang sangat responsif.

Sebagaimana disebutkan di atas di bagian hardware, ini tentang ukuran dan berat dari iPad, tapi sedikit lebih kecil dari beberapa tablet Android lainnya, yang sekitar 10,1 inci tinggi. S Tablet merasa nyaman untuk memegang; ergonomi nya yang halus dan dipoles.

Ringkasan:
Dikemas dengan fitur menarik dan praktis, Sony Tablet S adalah halus dibuat - perangkat yang sangat responsif dan siap untuk show time langsung dari kotak dengan 3,1 sistem operasi Android dan aplikasi termasuk - jika mahal. Jika Anda tidak memiliki akses ke Wi-Fi, tidak ada pilihan built-in untuk mengakses jaringan selular, yang akan membuat Anda tinggi dan kering jika Anda memerlukan koneksi konstan.
Semua inovasi kami dilipat menjadi satu
*Semua hal-hal besar yang anda tahu dari Sony, sekarang dalam tablet. Dengan desain yang nyaman yang cocok dengan mudah di tangan Anda, dan bersemangat dengan layar TruBlack, menikmati tablet benar-benar dioptimalkan yang responsif dan intuitif. Akses game PlayStation , Reader  eBook, musik dan film rilis baru melalui Jaringan Hiburan Sony atau mengontrol ruang tamu Anda melalui kontrol built-in IR universal remote 3 .
Convenience
Inputs and Outputs
Processor
Weights and Measurements
Dimensions (Approx.) : 9.5" L x 6.8" W x 0.3"D

Weight (Approx.) : 1lb. 5oz.
Display
Resolution : 1280 x 800

Screen Size : 9.4"
Memory
Software
Wireless/Networking
Hardware
Power
Battery Life (Approx) : Up to 8 hours6

Battery Type : Li-Ion 5000mAh
Storage
In  the Box
editor ending by dananggotical666