Spesifikasi Produk Brother QL-720NW Professional Wired and Wireless Label Printer
Mode Operasi
Pemotong
Pemotong Hidup
Kecepatan Maksimum Print (labels per menit)
Kecepatan Maksimum Print (mm per menit)
Displai
Ukuran Isolasi
Maksimum Keluasan Isolasi (Inch)
Maksimum Keluasan Print (inch)
Maksimum panjang label
Maksimum Resolusi (dpi)
Simbol untuk Windows (No. dari Clip arts dalam pengeditan P-sentuh)
Bermacam kopi
Pencetakan Refleksi
Pencetakan Vertikal
Pencetakan Rotasi
Tanggal / Stempel waktu
Tipe Code Bar
Code 39, 1-2/5, UPC-A, UPC-E, EAN 13, EAN 8, CODABAR (NW-7), CODE 

128, EAN 128, POSTNET, Laser Bar Code, ISBN-2, ISBN-5, PDF417, QR 

CODE, Data Matrix, UCC/EAN-128(GS1-128), ITF(I-2/5), EAN13(JAN13), 

GS1 DataBar(RSS), GS1 DataBar Omnidirectional, GS1 DataBar

Truncated, GS1 DataBar Stacked,GS1 DataBar Stacked

Omnidirectional, GS1 DataBar Limited, GS1 DataBar Expanded, GS1 

DataBar Expanded Stacked, PDF417(Standard, Truncate, Micro), QR

Code(Model 1, Model 2,Micro),Data Matrix (ECC200 Square, ECC200 

Rectangular), MaxiCode
Microsoft Word Ditambah kedalam
Microsoft Outlook Ditambahakan kedalam
Microsoft Excel Ditambahkan didalam
Kompatibilitas berkas database
csv, txt, mdb, xls, Microsoft SQL Server Database
Perangkat Lunak
Antarmuka
Kompatibilitas
Sistem Operasi
Windows Vista®, Windows® XP SP3 or higher, Windows Server® 2003, 

Windows® 7, Windows Server® 2008/2008 R2, Mac: 10.5.8-10.7 

Berat dan ukuran Brother QL-720NW Professional Wired and Wireless Label Printer
Dimensions (W x D x H)

Isi Paket Produk Brother QL-720NW Professional Wired and Wireless Label Printer
Package Contens :
- 29 mm x 90 mm standard address labels (100 labels)

- 62 mm continuous length paper tape (8 metres)

USB and power cables

CD-ROM containing P-touch Editor 5.0, printer drivers and user guides

Quick setup guide and warranty card 

Ringkasan produk Brother QL-720NW Professional Wired and Wireless Label Printer
Kecepatan cetak
Meningkatkan produktivitas dan efisiensi dengan kecepatan cetak cepat 150mm / sec

Resolusi cetak
300 dpi / 720 titik

Ukuran label
Pilih dari 12 , 17 , 29 , 38 , 62mm , DVD / CD Label ( Pre - cut Paper Tape / Film , berkelanjutan Paper Tape / Film ) sesuai dengan kebutuhan label Anda

Pilihan penggunaan
Peningkatan desain label profesional dan pencetakan dengan Editor Software P -Touch melalui koneksi USB ke PC Anda 
Penghematan Biaya
Biaya efektif menghasilkan profesional label nama karyawan lencana pada permintaan . Hampir menghilangkan biaya yang terkait dengan penggantian nama lencana permanen .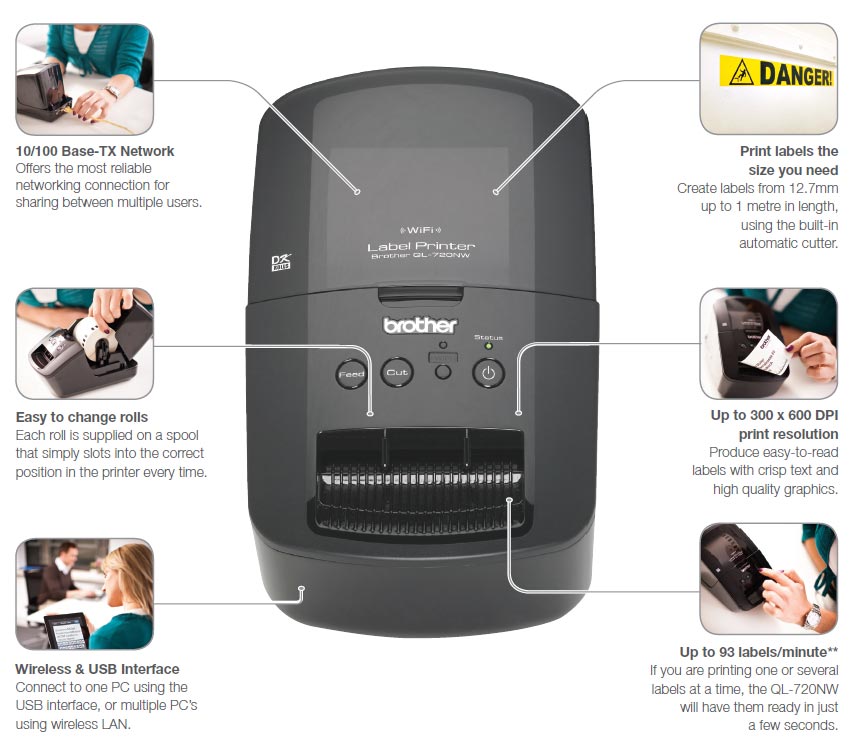 Plug and Print ( WIN Only)
Mencetak label tanpa menginstal perangkat lunak . Tidak ada kekhawatiran virus dan mudah berbagi dengan orang lain .

Kecepatan Cetak Cepat
Jika Anda mencetak satu atau beberapa label pada satu waktu , yang QL - 720NW akan memiliki mereka siap hanya dalam beberapa detik dengan kecepatan cetak 93 label / min .
Kinerja tinggi Labeller
Menghasilkan tahan lama , label kantor dicetak untuk file folder , laci berkas dan lebih dalam satu detik .

iPrint & Label
Dengan gratis Bruder iPrint & Label aplikasi , Anda sekarang dapat dengan cepat dan mudah membuat dan mencetak label langsung dari perangkat iOS atau Android ke Brother Anda QL - 720NW . Tersedia melalui toko aplikasi perangkat Anda .

Gallery Image Produk Brother QL-720NW Professional Wired and Wireless Label Printer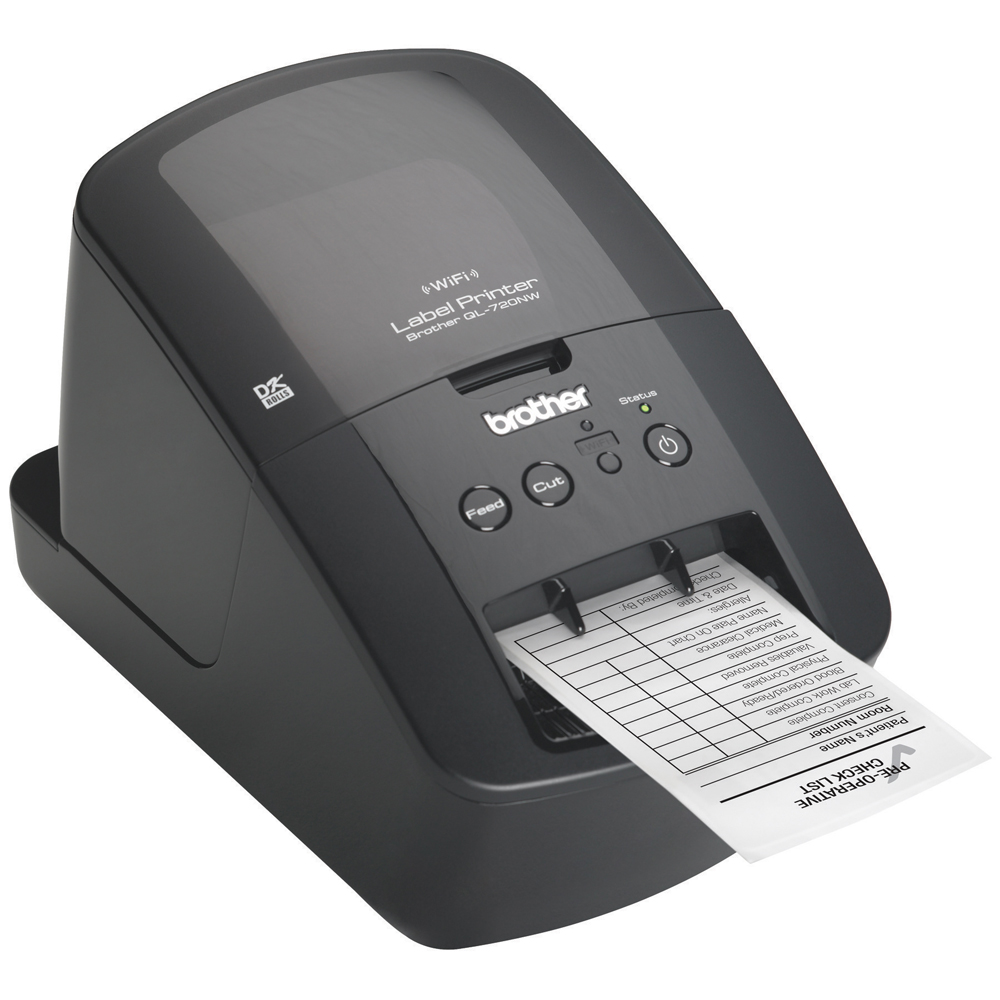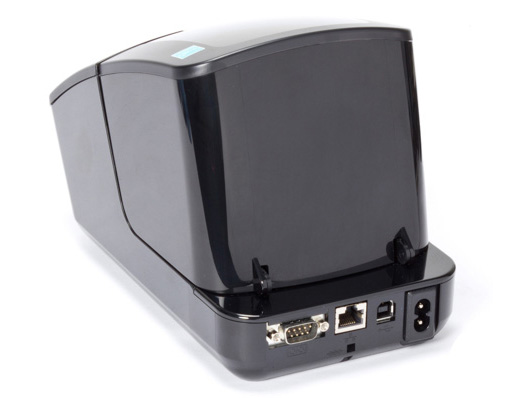 Demo Video Produk Brother QL-720NW Professional Wired and Wireless Label Printer