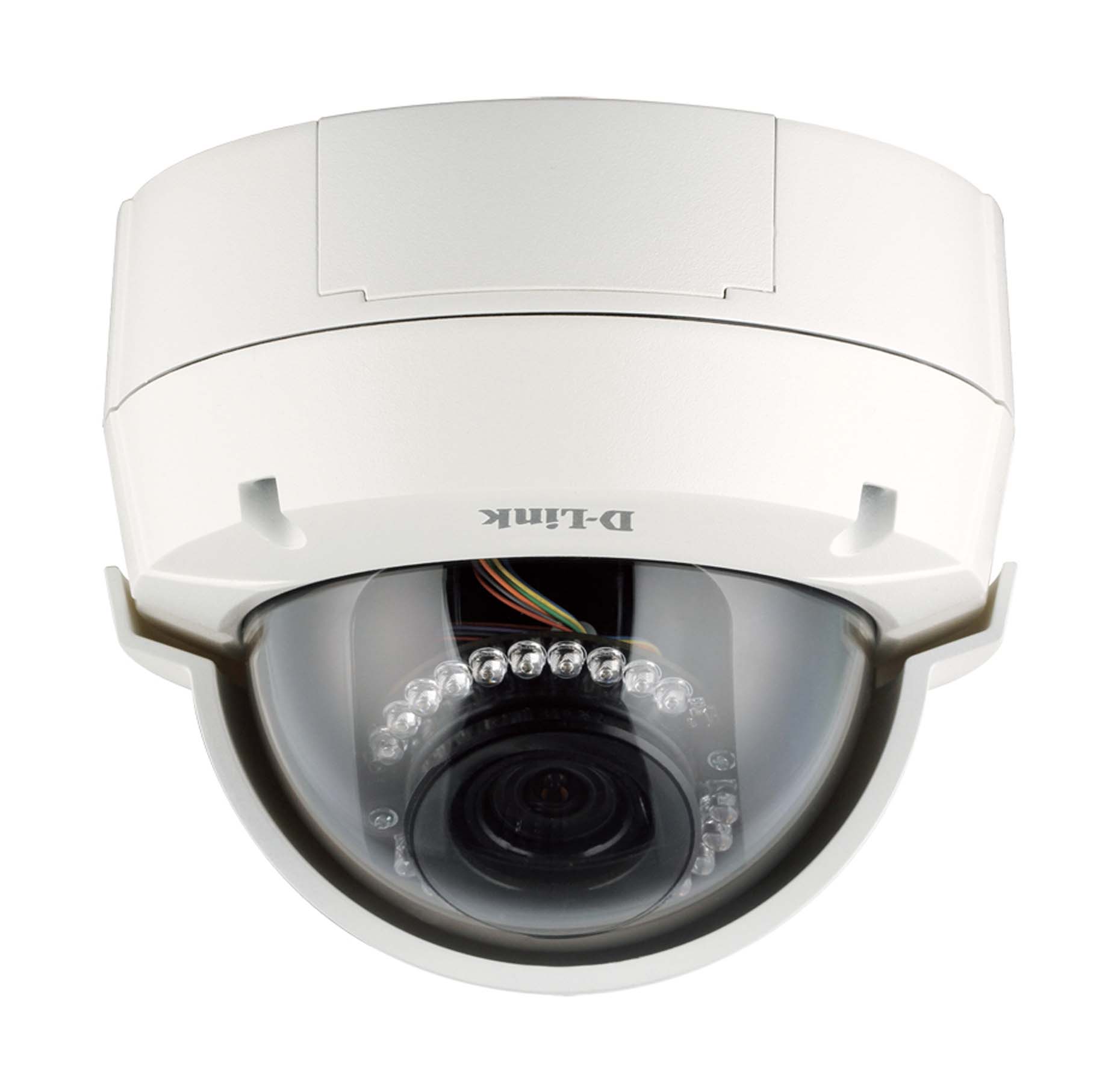 Spesifikasi D-LINK DCS-6513 Full HD WDR Day Night Outdoor Dome Network Camera
Exceptional Video Quality
1/2.8" 3 megapixel progressive CMOS sensor
3 to 9 mm motorised varifocal lens
Full HD resolution of 1920 x1080 and up to
3 megapixels at 2048 x 1536
P-Iris technology for superior image quality
Wide Dynamic Range image enhancement
H.264, MPEG-4, MJPEG codec support for streaming and recording
Outdoor placement
Built-in IR LED illuminator with a 20 metre range for use in dark areas
Built-in heating and cooling ensure the camera can work in a range of climates from -40 to 50 °C
Range of mounting options for flexible 
Camera Hardware Profile
1/2.8" 3 Megapixel progressive CMOS sensor
20 metre IR illumination distance
Minimum illumination: 0.5 lux (F1.2, colour mode), 0 lux (B/W, IR-LED on)
Built-in Infrared-Cut Removable (ICR) Filter module
10x digital zoom
3 to 9 mm motorised varifocal lens
Aperture: F1.2
Angle of view (16:9)
(H) 96.4° to 31.6°
(V) 51.2° to 17.7°
(D) 114.1° to 36.3°
Camera Housing
IP-67 compliant weatherproof housing
IK-10 compliant vandal-proof housing
Included weather shield
placement
IP67 weatherproof and IK10 anti-vandal certified housing
Weather shield to protect unit when mounted outdoors
Flexibility
MicroSD/SDHC Card slot for onboard storage
10/100 Fast Ethernet port with PoE ensures easy integration into your network
DI/DO socket for connection to external devices
Audio in and out jacks can be connected to a microphone and speaker for 2-way communication
Image Features
Configurable image size, quality, frame rate, and bit rate
Time stamp and text overlays
Configurable motion detection windows
Configurable privacy mask zones
Configurable shutter speed, brightness, saturation, contrast, sharpness, zoom, focus, and aperture
Video Compression
Simultaneous H.264/MPEG-4/MJPEG format compression
H.264/MPEG-4 multicast streaming
JPEG for still images
Video Resolution
4:3 (at 15 fps)
2048x1536
4:3 (at 30 fps)
600x1200
1024x768
800x600
640x480
480x360
320x240
176x144
16:9 (at 30 fps)
1920 x 1080
1280 x 720
800 x 450
640 x 360
480 x 270
320 x 176
176 x 144
Audio Support
G.726
G.711
External Device Interface
10/100 BASE-TX Ethernet port with PoE
1 DI / 1 DO
DC 12 V, 100 mA output
MicroSD/SDHC
Audio input/output
DI/DO connector 12 V DC output
Network Protocols
IPv6
IPv4
TCP/IP
UDP
ICMP
DHCP client
NTP client (D-Link)
DNS client
DDNS client (D-Link)
SMTP client
FTP client
HTTP / HTTPS
Samba client
PPPoE
UPnP port forwarding
RTP / RTSP/ RTCP
IP filtering
QoS
CoS
Multicast
IGMP
ONVIF compliant
Security
Administrator and user group protection
Password authentication
HTTP and RTSP digest encryption
System Requirements for Web Interface
Browser: Microsoft Internet Explorer 6 or higher, Firefox 1.5 or higher, or other Java-enabled browser
Event Management
Motion detection
Event notification and uploading of snapshots/video clips via e-mail or FTP
Supports multiple SMTP and FTP servers
Multiple event notifications
Multiple recording methods for easy backup
Remote Management
Take snapshots/video clips and save to local hard drive or NAS via web browser
Configuration interface accessible via web browser
Operating Systems
Windows 8/7/Vista/XP/2000
D-ViewCam™ System Requirements
Operating System: Microsoft Windows 7/Vista/XP
Web Browser: Internet Explorer 7 or higher
Protocol: Standard TCP/IP
D-ViewCam™ Software Functions
Remote management
Control and manage up to 32 cameras
View up to 32 cameras on one screen
Management functions provided in web interface
Scheduled recording, motion detection, and manual recording triggers
External Power Adapter
Input: 100 to 240 V AC, 50/60 Hz
Output: 12 V 1.25 A
Power Consumption
10.5 watts ± 5%
Temperature
Operating: -40 to 50 °C (-40 to 122 °F)
Storage: -20 to 70° C (-4 to 158° F)
Humidity
Operating: 20% to 80% non-condensing
Storage: 5% to 95% non-condensing
Certifications
CE
CE LVD
FCC
C-Tick
Berat D-LINK DCS-6513 Full HD WDR Day Night Outdoor Dome Network Camera
| | |
| --- | --- |
| Weight | 1.53 kg (3.37 lbs) (with weather shield) |
Ringkasan Produk D-LINK DCS-6513 Full HD WDR Day Night Outdoor Dome Network Camera
D-Link DCS-6513 Full HD WDR Day & Night terbuka Dome Network Camera adalah surveilans definisi tinggi profesional dan solusi keamanan yang cocok untuk kecil, menengah, dan perusahaan besar. Kamera ini menggunakan sensitivitas tinggi 3 megapiksel sensor progressive scan CMOS dengan lensa P-Iris bermotor dan onboard, image enhancement WDR untuk memberikan kualitas video yang benar-benar unggul dalam segala kondisi. Semua-dalam-satu desain kasar membuat kamera ini sangat handal dan cocok untuk ditempatkan di aplikasi surveilans tanpa perlu aksesoris.
Tinggi Kualitas Video
DCS-6513 dilengkapi dengan lensa P-Iris yang mengendalikan iris dengan presisi ekstrim. Built-in motor melangkah mempertahankan pembukaan Iris pada tingkat optimal setiap saat, menghasilkan kualitas gambar yang superior, kejelasan, dan kedalaman lapangan, sehingga Anda dapat melihat setiap detail menit dari daerah yang sedang dipantau Fungsi fokus jarak jauh menghilangkan kebutuhan untuk fokus manual pada posisi kamera dan memungkinkan Anda untuk membuat penyesuaian dari komputer manapun. Untuk memaksimalkan efisiensi bandwidth dan meningkatkan kualitas gambar, DCS-6513 memberikan kompresi video real-time dengan menggunakan H.264, MPEG-4, dan codec MJPEG, dan mendukung tiga profil terpisah untuk video streaming simultan dan rekaman. Fleksibilitas ini memungkinkan berbagai aplikasi keamanan, seperti pemantauan tempat-tempat umum untuk mendeteksi insiden dan untuk mengkoordinasikan tanggapan, menegakkan kontrol akses ke daerah terlarang, menghalangi aktivitas kriminal, atau pemantauan persediaan. Selanjutnya, kebutuhan bandwidth dapat disesuaikan secara real-time melalui jaringan, dan file video yang direkam dapat disimpan ke jaringan terpasang penyimpanan (NAS) perangkat atau microSD card.
Continuous Monitoring
DCS-6513's WDR image enhancement gives you improved image quality in environments with uneven or difficult lighting, so you can identify subjects that are backlit or in brightly lit areas. In low-light situations, the IR cut filter automatically slides out of the way to use all available light. The DCS-6513 also has built-in IR LED illuminators with a 20 metre range, allowing the camera to keep watch even in complete darkness. These features work together to give you a reliable surveillance camera capable of monitoring an area 24 hours a day.
Robust Management Software
Full HD WDR Day & Night Outdoor Dome Network Camera includes D-ViewCamTM, a complete surveillance software package that enables you to view, manage, and record from up to 32 cameras on a single computer in a central location. Recordings and e-mail alerts can be triggered through motion detection or events triggered by digital input devices, keeping administrators informed of any unusual activity.
Flexible Connectivity Options
DCS-6513 has a built-in 802.3af compliant PoE module that simplifies installation by providing power and networking connectivity with a single cable, reducing the need to drill holes or lay additional cabling. In addition, the included digital input and output connector enables connections to external devices such as IR sensors, switches and alarm relays.
Highlights produk
DCS-6513 dilengkapi dengan lensa P-Iris bermotor yang mengendalikan iris dengan presisi ekstrim. Built-in motor melangkah mengontrol iris membuka secara otomatis dalam lingkungan cahaya bervariasi dan mempertahankan itu pada tingkat yang optimal setiap saat, menghasilkan kualitas gambar yang superior, kejelasan dan kedalaman lapangan.
Remote zoom dan fungsi fokus memungkinkan untuk membuat penyesuaian dari komputer manapun dan menghilangkan kebutuhan untuk fokus manual pada posisi kamera
DCS-6513 Lebar teknologi Dynamic Range (WDR) menetralkan pencahayaan tidak sempurna dan memberikan gambar yang jelas dengan jumlah yang tepat dari kontras bahkan untuk mata pelajaran backlit dan memberikan gambar yang lebih baik
Ia memiliki built-in modul ICR dan IR LED untuk pengawasan 24 jam dan memastikan menangkap hingga 20 meter di kegelapan lengkap
IP-67 cuaca dan IK10 anti-perusak perumahan yang kuat bersertifikat dan berbagai pilihan pemasangan memungkinkan instalasi di berbagai lokasi dalam dan luar ruangan dan lingkungan
DCS-6513 memiliki built-in 802.3af modul PoE compliant memungkinkan untuk dengan mudah dipasang di berbagai lokasi tanpa perlu kabel listrik tambahan