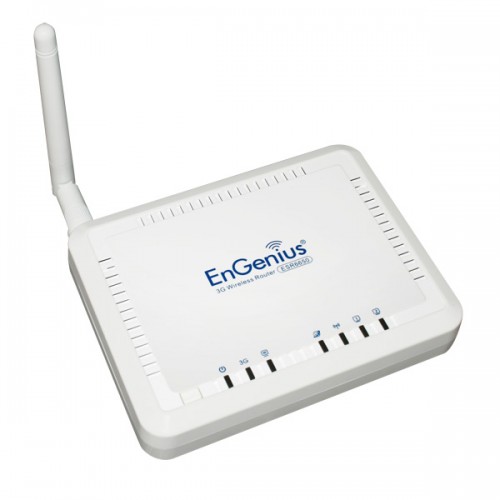 Spesifikasi Produk Engenius ESR-6650 3G Wireless N Router
Hardware Specifications
Memory
32MB SDRAM
Flash
4MB
Physical Interface
WAN: 1 * 10/100 Fast Ethernet RJ-45
LAN: 2 * 10/100 Fast Ethernet RJ-45
Rest button
Power Jack
WPS (WiFi Protected Setup)
USB (for 3G data card)
LEDs Status
Power Status
WAN (Internet connection)
10/100Mbps LAN1 & LAN2
WLAN(Wireless connection)
3G networks
Power Requirements
Power Supply:
200 to 240 VDC ± 10% (ETSI)
100 to 120 VDC ± 10% (FCC)
Device: 12V/1.25A
Note:
WAN can either be USB port or WAN port. USB is the default WAN.
RAM and Flash design should be flexible to cover SOHO and ISP purpose.
Top Panel (LED status)
Power
1 ( On-> orange Test/reset default->blink)    
3G 
1 ( Link-> blue on)
WAN
1 ( Link-> blue on, traffic->blink)
Internet
1 ( Link-> blue on)
WLAN
1 ( Link-> blue on, traffic->blink)
LAN1
1 ( Link-> blue on, traffic->blink)
LAN2
1 ( Link-> blue on, traffic->blink)
Rear Panel (Interface)
Antenna 
Detachable SMA 
Environment & Mechanical
Temperature Range
0 to 45° C - Operating,  -10 to 70 ° C - Storage
Humidity (non-condensing)
15%~95% typical
Software Features
Router And Gateway
Topology
Infrastructure
Operation Mode
AP / Router / WDS
LAN
DHCP Server
Static Routing Table
WAN
PPTP
PPPoE
Static IP
DHCP Client
Clone MAC
Router
NAT/ NAPT
Static Routing
Dynamic Route
Virtual server mapping
IP address mapping
Port Forwarding
Port Triggering
Special application
ALG(Application Layer Gateway) support (RTP/RTSP, AOL, FTP, ICMP, WMP/MMS, NetMeeting, SIP)
DNS Relay
DDNS
Time Zone(NTP client)
Firewall
Blocking Ping
DoS(Blocking Ping, Port scan, Sync Flood)
MAC / IP Filtering
ICMP Blocking
SPI (Stateful Packet Inspection)
DMZ (Demilitarized Zone) Host
Policy Based Parental Controls
Port Range / Service Filtering
Internet Domain Restriction
Dynamic URL Filtering (OEM subscription service)
VPN
VPN pass-through (PPTP, L2TP, IPSEC)
Wireless
Power saving(Green technology)
Multiple SSID
64/128 bit WEP Encryption
WPA Personal (WPA-PSK using TKIP or AES)
WPA Enterprise (WPA-EAP using TKIP)
802.1x Authenticator
Hide SSID in beacons
Wi-Fi Protection Setup (WPS)
WDS
ACL control
Best channel selection
Speed/Bandwidth monitor
QoS
WMM
Application base
Priority Queue
Bandwidth Allocation
Management
Configuration
Web-based configuration (HTTP)
Firmware Upgrade
Via webpage upgrade
Auto recovery once firmware upgrade fail
Administrator Setting
Administrator password change
Reset Setting
Reboot
Reset to Factory Default
System monitoring
Speed and Bandwidth monitoring
Scheduling
Enable Firewall
Enable power saving
Easy access
User can type model name and access the main page.
Install wizard
Guide user to set-up Router smoothly

Berat dan ukuran Engenius ESR-6650 3G Wireless N Router
Dimensions
125mm (L) x 98mm (W) x 25mm (H)

Isi Paket Produk Engenius ESR-6650 3G Wireless N Router
Package Contens :
1x Engenius ESR-6650 3G Wireless N Router

Ringkasan produk Engenius ESR-6650 3G Wireless N Router
ESR6650 adalah 3G -enabled Wireless - N Router yang memberikan hingga 3X kecepatan lebih cepat ( 150Mbps ) . Ini mendukung kartu data 3G dari Huawei , OPSI , Sierra dan BandLuxe dengan standar yang meliputi WCDMA ( HSDPA ) , CDMA2000 & TD - SCDMA . Hal ini built-in dengan USB untuk mudah dan fleksibel plug- and-play interface untuk kartu 3G . 
ESR6650 mendukung jaringan rumah dengan throughput yang superior dan kinerja dan jangkauan nirkabel yang tak tertandingi . Dengan mudah digunakan pada fungsi WPS , hal ini membantu pengguna untuk terhubung ke perangkat nirkabel hanya dengan satu tombol push .
Ada juga built -in 2 -port full- duplex 10/100 Beralih Cepat untuk menghubungkan perangkat - Ethernet kabel Anda bersama-sama . Fungsi Router ikatan itu semua bersama-sama dan memungkinkan seluruh jaringan Anda berbagi kabel berkecepatan tinggi atau DSL koneksi internet .

Gallery Image Produk Engenius ESR-6650 3G Wireless N Router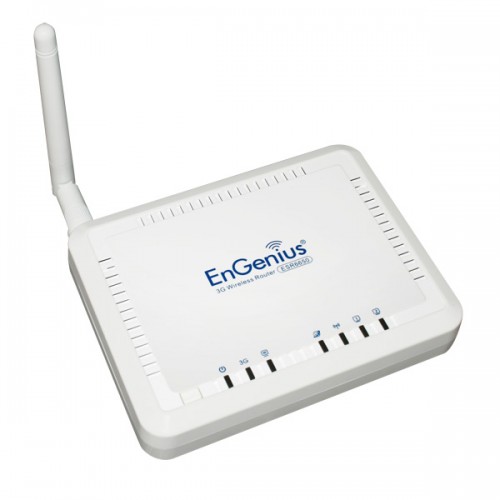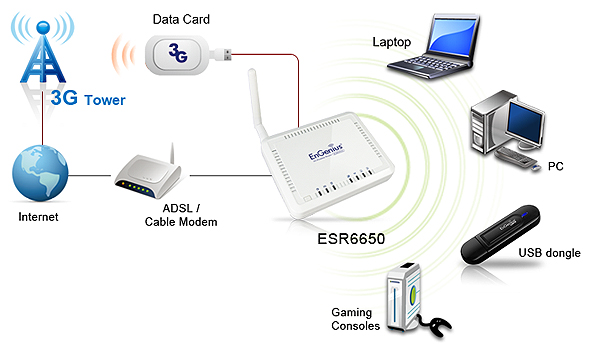 Demo Video Produk Engenius ESR-6650 3G Wireless N Router