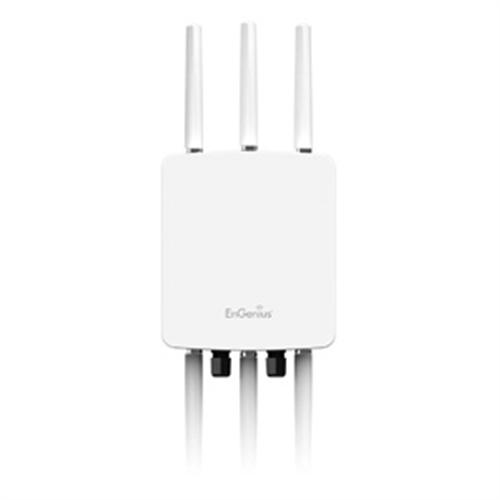 Spesifikasi Produk EnGenius ENH1750EXT Outdoor 802.11ac Dual Concurrent Access Point
Feature :
Draft IEEE 802.11 ac and IEEE 802.11 b/g/n compliant
Up to 450Mbps(2.4GHz) + 1300Mbps (5GHz)
IEEE 802.3 at standard PoE support
PoE injector with reset from remote-end
Two Gigabit Ethernet Port (One PSE out)
Waterproof Housing IP68 rated
AP/CB/WDS Mode support
Web Configuration and EZ controller software
8 SSIDs support per radio + VLAN tagged
SNMP V1/ V2c/V3, MIB I/II supported
WEP/WPA/WPA2 wireless encryption
IPV4/IPV6 support
Effective and flexible bandwidth management
Band steering, guest network, clients limit and clients status support
Wireless Radio Specification
Dual Radio, 5GHz 802.11a/n/ac and
2.4GHz 802.11b/g/n
2.4GHz: Max 450Mbps
5GHz: Max 1300Mbps
Dual concurrent radio support
Transmit Power (Maximum Value)
‧2.4GHz: Max 29dBm
‧5GHz: Max 27dBm
‧Maximum power is limited by regulatory power
Supported radio technologies:
802.11b: Direct-sequence spread-spectrum(DSSS)
802.11a/g/n/ac: Orthogonal frequency-division multiplexing (OFDM)
802.11n/ac: 3x3 MIMO with 3 streams
802.11ac with 20/40/80 MHz channel width
802.11n with 20/40 MHz channel width
802.11a/b/g with 20 MHz channel width
Supported modulation types:
802.11b: BPSK, QPSK, CCK
802.11a/g/n: BPSK, QPSK, 16-QAM, 64-QAM
802.11ac: BPSK, QPSK, 16-QAM, 64-QAM, 256-QAM
Supported data rates (Mbps):
802.11b: 1, 2, 5.5, 11
802.11a/g: 6, 9, 12, 18, 36, 48, 54
802.11n: 6.5 to 450 (MCS0 to MCS15)
802.11ac: 6.5 to 1,300 (MCS0 to MCS9, NSS=1 to 3)
Power
Power Source:
802.3af/at compliant source
Active Ethernet (Power over Ethernet, PoE)
Antennas
Six detachable high gain antennas:
Three detachable 5dBi 2.4GHz antennas
Three detachable 7dBi 5GHz antennas
Omni-Directional type:
Provide the optimal coverage
Compliant with N type connector
Interface
Two 10/100/1000 BASE-T Ethernet Port:
One Port (LAN1) supports 802.3af/at PoE input
One Port (LAN2) supports 802.3af PSE output
LAN2 can provide the power when using 802.3at PoE input instead of proprietary input
Reset button in the PoE injector
Mechanical & Environment
Operating:
Temperature: -20°C~70°C
Humidity: 0%~90% typical
Storage:
Temperature: -30°C~80°C
Surge Protection: 20KV (Certificated standard is 8KV)
ESD Protection: 6KV (Certificated standard is 1KV)
Harsh Environment Use:
‧IP68 rated
Operation Mode
Access Point / Client Bridge / WDS:
A variety of operation modes to serve multiple constituencies and applications.
Easy to Management
Auto Channel Selection
Setting varies by Regulatory Domains
SSIDs:
BSSID support
16 SSIDs support
Support 8 SSIDs on both 2.4GHz and 5GHz bands
- VLAN Tag:
Independent VLAN setting can be enable or disable
Any packet that enters the Device without a VLAN tag will have a VLAN tag inserted with a PVID (Ethernet Port VID)
- VLAN Pass-through:
VLAN pass through over WDS bridge
- SNMP &MIB:
v1/v2c/v3 support
MIB I/II, Private MIB
- Save Configuration as Default:
Saves the customized configuration as default value for different customer demands.
- Clients Traffic Status:
Reports the various main information timely which is required by administrator
- Guest Network:
Allows the administrator to manage easily grant "visitor" access within the network.
- E-mail Alert:
Provides a network monitoring tool for administrators to stay informed the configuration change.
- QoS:
Complaint with IEEE 802.11e standard
- RADIUS Accounting:
Help operators to offload 3G to the wi-fi seamlessly
Effective Control and Use
- CLI Comments Support:
Setting varies by Regulatory Domains
- Supported radio technologies:
- Distance Control (Ack Timeout)
- Multicast Supported
- Wi-fi Scheduler
Set the schedule for rebooting the device
- Band Steering
Shift the clients from 2.4GHz band to 5GHz band when the clients contest in 2.4GHz band
- Fast Roaming
Minimize perceptible delay during re-association.
- Fast handover
Traffic shaping regulates the flow of packets leaving an interface to deliver improvided Quality of Service (QoS)
Reinforcement Security
- WEP Encryption-64/128/152 bit
- WPA/WPA2 Enterprise (WPA-EAP using TKIP or AES)
- Hide SSID in beacons
- MAC address filtering:
Filter up to 50 MACs
- Wireless STA (Client) connection list:
Reports the various main information timely which is required by administrator
- Https:
Widely used communications approach for securing communication over a computer network.
- SSH:
Provide confidentiality and integrity of data over an unsecured network, such as the Internet.

Berat dan ukuran EnGenius ENH1750EXT Outdoor 802.11ac Dual Concurrent Access Point
- Dimensions / Weight:
285mm (L) x 218mm (W) x 55.5mm (H)
1890g (Unit, without mounting kit and antennas)

Isi Paket Produk EnGenius ENH1750EXT Outdoor 802.11ac Dual Concurrent Access Point
Package Contens :
1x  EnGenius ENH1750EXT Outdoor 802.11ac Dual Concurrent Access Point

Ringkasan produk EnGenius ENH1750EXT Outdoor 802.11ac Dual Concurrent Access Point
ENH1750EXT dual-band arsitektur bersamaan yang menawarkan bandwidth hingga 1300Mbps pada 5GHz band dan 450Mbps pada 2.4GHz band yang. Dengan IP68-rated tahan air kandang dan kemampuan pemasangan yang fleksibel, produk ini mampu diterapkan dalam lingkungan yang menantang.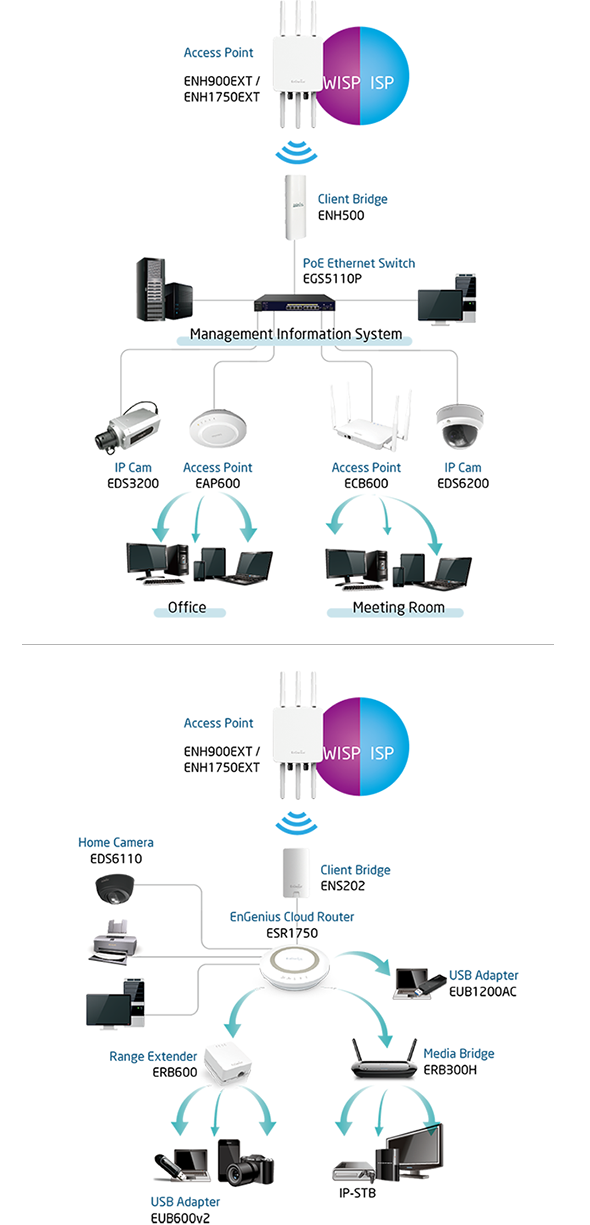 Power Over Ethernet (PoE) and Reset from Remote-end SupportENH1750EXT equips with two gigabit Ethernet ports that support IEEE 802.3at PoE input and IEEE 802.3af PSE out as well as PoE injector with reset function. One of gigabit Ethernet ports can deliver the internet signal and support the IEEE 802.3at PoE input. The Other Ethernet port can provide the power source when using IEEE 802.3at PoE input instead of proprietary input. To fulfill the operation from distantly use, clients can reset the ENH1750EXT to default functions via EPE-48GR from remote-end.
Beberapa Mode Operasi 
ENH1750EXT dapat beroperasi dalam tiga mode yang berbeda dengan Access Point, Client Bridge dan WDS Mode. Dengan dua antarmuka individu, setiap antarmuka dapat dikonfigurasi menjadi 3 modus yang berbeda dengan maksimum 5 kombinasi.
Manajemen Efektif
ENH1750EXT dapat dikonfigurasi dengan konfigurasi web atau EnGenius Zona Controller (EZ controller) software. Dengan software fitur lengkap built-in, perangkat ini memungkinkan administrator untuk mengontrol, mengelola, dan mengoptimalkan jaringan secara efektif dari lokasi pusat yang dapat mengurangi biaya pemeliharaan sangat.Menurut pengguna kebutuhan, EnGenius telah mengembangkan beberapa fungsi untuk keamanan maksimum, pemantauan dan mudah manajemen untuk memastikan pengguna yang optimal pengalaman. ENH1750EXT menyediakan berbagai-macam otentikasi dan enkripsi standar (termasuk WEP, WPA, WPA2, TKIP / AES dan IEEE 802.1X) untuk menegakkan keamanan maksimum. Untuk memberikan stabil dan tinggi transmisi data rate, EnGenius dikonfigurasi band kemudi, batas klien dan klien statusnya untuk membantu administrator dalam memonitor dan mengelola layanan nirkabel. Jika klien perangkat yang dikonfigurasi 2.4GHz band dan band 5GHz, ENH1750EXT akan menginisialisasi kemudi band dan pergeseran klien perangkat untuk terhubung wireless dari 2.4GHz ke 5GHz serta mengurangi contention pada 2.4GHz band yang. Di sisi lain, administrator dapat memantau status klien menggunakan sumber daya untuk menjamin alokasi secara optimal, untuk mengatur jumlah menghubungkan klien dan untuk membatasi klien untuk mengakses ENH1750EXT tersebut.

Gallery Image Produk EnGenius ENH1750EXT Outdoor 802.11ac Dual Concurrent Access Point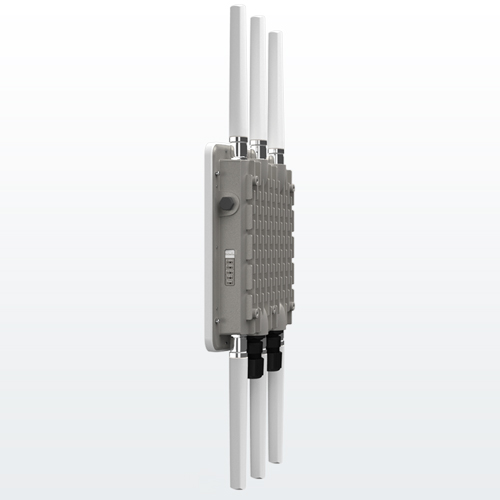 Demo Video Produk EnGenius ENH1750EXT Outdoor 802.11ac Dual Concurrent Access Point