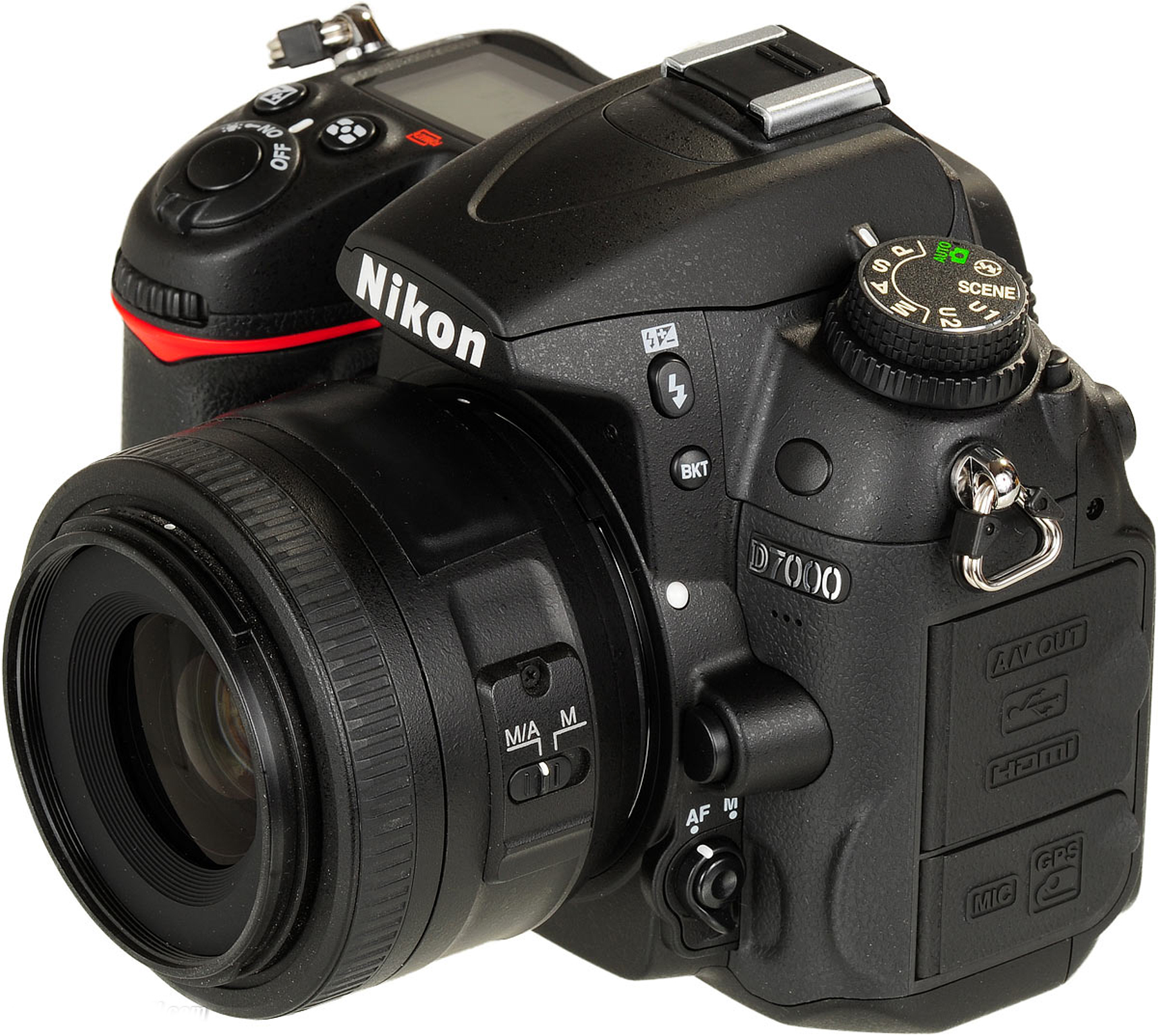 Spesifikasi NIKON D7000
Lens Mount
Nikon F bayonet mount
Picture Angle
Nikon DX format (Effective picture angle 1.5x [Approx.] conversion factor)
Effective Pixels
16.2 million
Sensor Size
23.6mm x 15.6mm
Image Sensor
Format DX
Image Sensor
Type CMOS
Total Pixels
16.9 million
Dust-Off Reference Photo
Yes
Image Area (pixels)
DX-format
(L) 4,928 x 3,264
(M) 3,696 x 2448
(S) 2,464 x 1,632
File Format Still Images
NEF (RAW): Lossless Compressed or Compressed 12 or 14 bit 
JPEG: JPEG-Baseline-Compliant; can be selected from Size Priority and Optimal Quality
Picture Control
Landscape 
Monochrome 
Neutral 
Nine User-customizable Settings 
Portrait 
Standard 
Vivid
Storage Media
SD 
SDHC 
SDXC
Card Slot
2 Secure Digital (SD)
File System
Compliant with DCF (Design Rule for Camera File System) 2.0 
DPOF (Digital Print Order Format) 
EXIF 2.3 (Exchangeable Image File Format for Digital Still Cameras)
Viewfinder
Eye-level Pentaprism Single-Lens Reflex Viewfinder
Viewfinder
Frame Coverage 100% Approx.
Viewfinder
Magnification 0.95x Approx.
Viewfinder Eyepoint
19.5mm
Viewfinder Diopter Adjustment
-3 to +1m¯¹
Focusing Screen
Type B BriteView Clear Matte Mark II with AF Area Brackets (grid lines can be displayed)
Reflex Mirror
Quick-return type
Depth-of-field Control
Yes
Lens Compatibility at a Glance***
AF-S or AF lenses fully compatible 
Metering with AI lenses
Compatible Lenses
AF NIKKOR for F3AF not Supported 
AI-P NIKKOR: All Functions Supported Except 3D Color Matrix Metering II 
DX AF NIKKOR: All Functions Supported 
Electronic Rangefinder can be used if Maximum Aperture is f/5.6 or Faster 
IX NIKKOR Lenses Cannot be Used 
Non-CPU: Can be used in modes A and M; Color Matrix Metering and Aperture Value Display Supported if user Provides Lens Data (AI lenses only) 
Other AF NIKKOR: All Functions Supported Except 3D Color Matrix Metering II 
PC Micro-NIKKOR does not Support some Functions 
Type G or D AF NIKKOR: All Functions Supported
Shutter type
Electronically controlled vertical-travel focal-plane
Fastest Shutter Speed
1/8000 sec.
Slowest Shutter Speed
30 sec.
Flash Sync Speed
Up to 1/250 sec. 
Synchronizes with shutter at 1/320s or slower (flash range drops at speeds between 1/250 and 1/320s)
Bulb Shutter Setting
Yes
Shutter Release Modes
Continuous low-speed [CL] mode; 1-5 frames per second 
Continuous high-speed [CH] mode; 6 frames per second 
Live View [LV] mode 
Self-timer mode 
Single-frame [S] mode
Continuous Shooting Options
DX-format
CH: Up to 6 frames per second
CL: Up to 5 frames per second
Top Continuous Shooting Speed at full resolution
6 frames per second
(CIPA guidelines)
Self-timer
2, 5, 10, 20 sec. Timer duration electronically controlled
Exposure Metering System
TTL exposure metering using 2,016-pixel RGB sensor
Metering Range
0 to 20 EV (Matrix or center-weighted metering at ISO 100 equivalent, f/1.4 lens, at 20°C/68°F) 
2 to 20 EV (Spot metering at ISO 100 equivalent, f/1.4 lens at 20°C/68°F)
Exposure Meter Coupling
CPU 
AI
Exposure Modes
Advanced Scene Modes 
Aperture-Priority Auto (A) 
Auto 
Auto (flash off) 
Manual (M) 
Programmed Auto with flexible Program (P) 
Shutter-Priority Auto (S) 
U1 (user setting 1) 
U2 (user setting 2)
Scene Modes
Autumn Colors 
Beach / Snow 
Blossom 
Candlelight 
Child 
Close-up 
Dusk / Dawn 
Food 
High Key 
Landscape 
Low Key 
Night Landscape 
Night Portrait 
Party / Indoor 
Pet Portrait 
Portrait 
Silhouette 
Sports 
Sunset
Exposure Compensation
±5 EV in increments of 1/3 or 1/2 EV
Exposure Bracketing
2 to 3 frames in steps of 1/3, 1/2, 2/3, 1 or 2 EV
Exposure Lock
Yes
Mirror Lock Up
Yes
ISO Sensitivity
ISO 100 - 6400
Hi-1 (ISO 12,800)
Hi-2 (ISO 25,600)
Lowest Standard ISO Sensitivity
100
Highest Standard ISO Sensitivity
6400
Highest Expanded ISO Sensitivity
HI-2 (ISO 25,600 equivalent)
Expanded ISO Sensitivity Options
Hi-1 (ISO-12,800 equivalent) in 1/3, 1/2 or 1 EV 
Hi-2 (ISO 25600 equivalent)
Long Exposure Noise Reduction
Yes
High ISO Noise Reduction
Low 
Normal 
High 
Off
D-Lighting
Bracketing 2 or 3 frames
Single-point AF Mode
Yes
Dynamic AF Mode
Number of AF points: 9, 21, 39 and 39 (3D-tracking)
Auto-area AF Mode
Yes
Autofocus System
39 focus points (including 9 cross-type sensors) 
AF-assist illuminator (range approx. 1 ft. 8in.-9 ft. 10 in.) 
Finetuning 
Nikon Multi-CAM 4800DX autofocus sensor module with TTL phase detection
Focus Lock
AE-L/AF-L button 
Half press of shutter-release button (single-point AF in AF-S)
Focus Modes
Auto AF-S/AF-C selection (AF-A) 
Continuous-servo (AF-C) 
Face-Priority AF 
Full-time Servo (AF-A) available in Live View only 
Normal area 
Single-servo AF (AF-S) 
Wide area
Maximum Autofocus Areas/Points
39
Autofocus Sensitivity
-1 to +19 EV (ISO 100, 20°C/68°F)
Built-in Flash
Yes
Flash Bracketing
2 to 3 frames in steps of 1/3, 1/2, 2/3, 1 or 2 EV
Built-in Flash Distance
39 ft. (ISO 100)
Top FP High Speed Sync
Up to 1/8000
Flash Control
i-TTL Balanced fill-flash, standard i-TTL flash for digital SLR
Flash Sync Modes
Front-curtain sync (normal) 
Rear-curtain sync 
Red-Eye reduction 
Red-Eye reduction with slow sync 
Slow sync
Flash Compensation
-3 to +1 EV in increments of 1/3 or 1/2 EV
Accessory Shoe
Yes
Nikon Creative Lighting System (CLS)
Built-in flash Commander Mode 
CLS Supported
White Balance
Auto (2 types) 
Auto (TTL white balance with 2,016-pixel RGB sensor) 
Cloudy 
Direct Sunlight 
Fine Tune by Kelvin color temperature setting (2,500 K to 10,000K) 
Flash 
Fluorescent (7 types) 
Incandescent 
Preset manual (up to 5 values can be stored) 
Seven manual modes with fine-tuning 
Shade
White Balance Bracketing
2 or 3 exposures
Live View Shooting
Yes
Movie
HD 1,920x1,080 / 24 fps 
HD 1,280x720 / 30 fps 
HD 1,280x720 / 24 fps 
VGA 640x424 / 30 fps 
Movie with sound
Movie Audio
Built-in microphone, monaural 
Optional external stereo mini-pin jack (3.5mm diameter) 
Microphone sensitivity can be adjusted
Monitor Size
3.0 in. diagonal
Monitor Resolution
921,000 Dots
Monitor Type
Super Density 
Wide Viewing Angle TFT-LCD
Monitor Angle of View
170-degree wide-viewing angle
Monitor Adjustments
Brightness, 7 levels
Virtual Horizon Camera Indicator
Yes
Playback Functions
Auto Image Rotation 
Calendar 
Full Frame 
Highlight Point Display 
Histogram Display 
Movie Playback 
Shooting Data 
Slideshow 
Sound Playback 
Thumbnail (4, 9 or 72 segments) 
Zoom
In-Camera Image Editing
Color Balance 
Color Outline 
D-Lighting 
Distortion Control 
Edit Movie 
Filter Effects 
Fisheye 
Image Overlay 
Miniature Effect 
Monochrome 
NEF (RAW) Processing 
Perspective Control 
Quick Retouch 
Red-Eye Correction 
Resize 
Side-by-Side Comparison 
Straighten 
Trim
Image Comment
Yes
Interface
Audio/Video Out 
HDMI 
Hi-speed USB 
NTSC 
PAL 
Stereo Microphone Input
Wi-Fi Functionality
Eye-Fi Compatible 
FTP file transfer available and PTP/IP with optional WT-4A (IEEE 802.11 a/b/g)
GPS GP-1
GPS unit
Save/Load Camera settings
Yes
My Menu
Yes with customization
Recent Settings
Yes
Supported Languages
Arabic 
Chinese (Simplified and Traditional) 
Czech 
Danish 
Dutch 
English 
Finnish 
French 
German 
Indonesian 
Italian 
Japanese 
Korean 
Norweigan 
Polish 
Portuguese 
Russian 
Swedish 
Thai 
Turkish 
Spanish
Date, Time and Daylight Savings Time Settings
Yes
World Time Setting
Yes
Battery
Rechargeable
Battery / Batteries
EN-EL15 Lithium-ion Battery
Battery Life (shots per charge)
1,050 shots (CIPA)
AC Adapter
EH-5a AC Adapter
Battery Charger
MH-25 Quick Charger
Tripod Socket
1/4 inch 20
Approx. Dimensions Width:
5.2 in. (132mm)
Height: 4.1 in. (103mm)
Depth: 3.0 in. (77mm)
Approx. Weight
24.3 oz. (690g)
camera body only
Supplied Software
ViewNX 2 CD-ROM
Optional Accessories
MB-D11Multi-Power Battery Pack 
EH-5A AC Adapter (requires EP-5B Power Supply Connector) 
CF-DC-3 Semi-soft Case 
MC-DC2 Wired Remote Release 
GP-1 GPS Adapter 
ML-L3 Remote Controller 
DK-21M Magnifying Eyepiece 
DK-21C Correction Eyepieces 
Camera Control Pro 2 
Capture NX 2 Software
Supplied Accessories
EN-EL15 Rechargeable Li-ion Battery
MH-25 QuickCharger
DK-5 Eyepiece Cap
DK-21 Rubber Eyecup
UC-E4 USB Cable
EG-D2 Audio Video Cable
AN-DC1 Camera Strap
BM-11 LCD Monitor Cover
BF-1B Body Cap
BS-1 Accessory Shoe Cover
ViewNX 2 CD-ROM



Fitur Utama NIKON D7000
Resolusi Tinggi 16,2 MP DX-format CMOS sensor untuk cetakan besar dan cropping ketat
High Speed ​​6 frame per detik pengambilan gambar terus menerus sampai dengan 100 tembakan menangkap aksi yang paling cepat berlalu
Ground-breaking 2.016-pixel RGB (3D Color Matrix) sensor memberikan kontrol yang lebih akurat metering cahaya dan mengoptimalkan Scene Recognition System untuk exposure, white balance, fokus pelacakan dan iTTL flash controlEXPEED 2 pengolahan gambar dan 14-bit A / D Konversi menyediakan nada halus, kaya warna, dan kinerja kamera cepatKaca yang besar pentaprism Viewfinder Optical terang dengan approx. 100% cakupan bingkai dan approx. 0.94x perbesaran
Slots Twin SD Card dengan SD, SDHC, SDXC kompatibilitas kartu memori memberi Anda pilihan untuk terus menembak atau memisahkan NEF Anda (RAW), JPEG dan file film
Built-in lampu kilat flash dengan i-TTL dan dukungan Wireless Komandan sehingga Anda dapat cahaya subyek Anda cara apapun yang Anda suka
Opsional MB-D11 multi-power pack lebih lanjut memperluas waktu Anda menembak dan pilihan baterai sambil menambahkan vertikal rana-release dan memanggil kontrol ke kamera Anda
Pengaturan Pengguna Dua didefinisikan (U1, U2) tepat di Mode Dial Pemilih membiarkan Anda menyimpan pengaturan kamera yang paling sehingga Anda dapat kembali ke mereka kapan saja tanpa memerlukan penyesuaian lebih lanjut atau pengaturan menu
Picture Control memungkinkan Anda memilih dari Standard, Netral, Vivid, Portrait Monokrom,, atau Landscape untuk menerapkan tampilan pribadi dan merasa untuk gambar Anda
Horizon Indikator Virtual Grafis menunjukkan apakah kamera tingkat dan dalam mode Live View, memungkinkan Anda menempatkan kotak atas adegan Anda tentang untuk menembak - alat yang sangat berharga untuk membidik foto lansekap dan arsitektur.
Breathtaking Full HD 1080p Film dengan Autofocus Purna Waktu dan eksternal stereo microphone jack untuk merekam film berkualitas sinematik-hingga 20 menit semua ditingkatkan oleh kualitas lensa Nikkor dipertukarkan dan fleksibilitasDinamis rentang ISO 100-6400 dapat ditingkatkan menjadi 25.600 (hi2) memungkinkan Anda menembak dalam kegelapan dekat
Customizable 39 titik AF Sistem meliputi sembilan pusat cross-type sensor yang beroperasi dengan setiap lensa Nikkor AF sehingga Anda dapat fokus pada membuat gambar besar
Kompak tapi tahan lama dengan magnesium-alloy atas dan belakang sampul, cuaca superior dan segel debu dan sistem siklus-rated 150.000 rana menyediakan operasi yang handal
3 Inch, 921.000-dot Super-Kepadatan LCD Monitor dengan 170 derajat viewing memberikan terang, pemutaran gambar tajam, dan Live View yang tepat dan shooting Film
Fast Start-Up waktu 0,13 detik dan Shutter Lag pendek 50ms sehingga kamera Anda siap untuk pergi ketika Anda
Compact EN-EL15 Baterai memungkinkan Anda menembak lebih dari 850 tembakan
Built-in HDMI Connection memungkinkan Anda menghubungkan kamera langsung ke HDTV Anda dan pemutaran dengan kontrol HDTV paling terpencil
Active D-Lighting mengembalikan gambar-meningkatkan detail dalam bayangan dan highlight
Scene Mode serbaguna memungkinkan Anda memilih dari Portrait, Landscape, Anak, Olahraga, Close-up atau Potret Malam untuk hasil yang menakjubkan dalam kondisi sebaliknya menantang