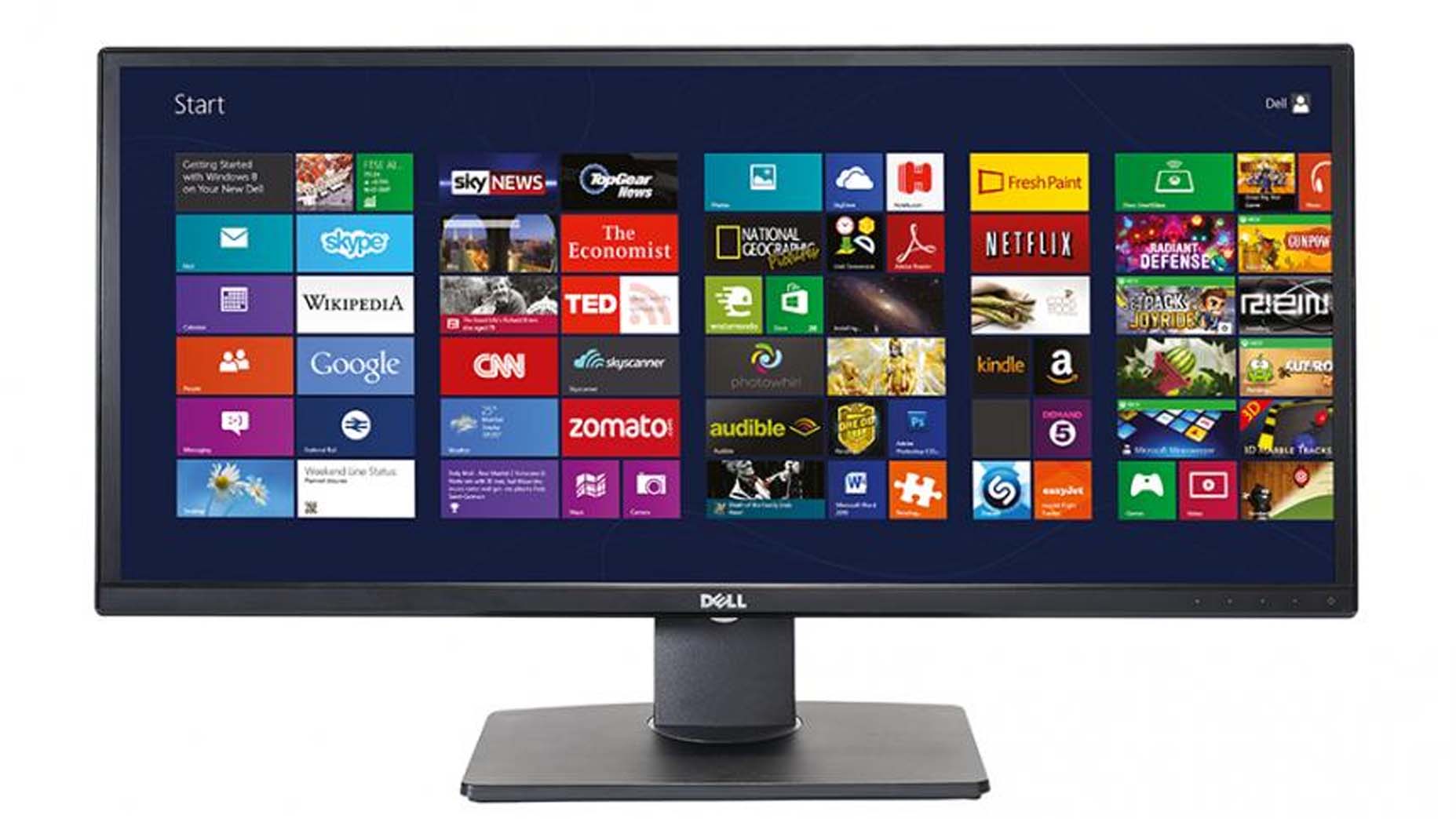 Spesifikasi Dell U2913WM monitor UltraSharp ultrawide LED(29 inch,2560 x 1080 Full HD)
Display
Diagonal Viewing Size
73.02 cm
29 inches (28.75 inch wide viewable image size)
Active Display Area (H x W)
672.77 x 283.82 mm
26.49" x 11.17"
Optimal resolution
2560 x 1080 at 60 Hz
Aspect ratio
Ultra widescreen (21:9)
Pixel pitch
0.09 (H) mm x 0.26 (V) mm
Brightness
300 cd/m² (typical), 50 cd/m² (minimum)
Adjustability
Height-Adjustable stand, tilt, swivel and built in cable-management, capacitive touch OSD controls
Color Support
Color Gamut (typical): sRGB >99%, 82% (CIE 1976)4
Color Depth: 16.7 million colors
Contrast Ratio
1000 to 1 (typical), Dynamic Contrast Ratio: 2 Million:1 (Max)
Viewing Angle
178° vertical / 178° horizontal
Response Time
8ms (grey to grey)
Panel type, surface
In-plane switching, anti-glare with hard coat 3H
Backlight Technology
LED
Display Type
Widescreen Flat Panel Display
Flat Panel Mount Interface
VESA
Display Screen Coating
Antiglare with hard-coating 3H
Audio Output
DC power connector for optional Dell Soundbar
Stand
Height adjustable stand, tilt, swivel and built-in cable management
Connectivity
1 Dual Link Digital Visual Interface connectors (DVI-D) with HDCP
1 DisplayPort 1.2 (DP)
1 Mini DisplayPort 1.2 (mDP)
1 High Definition Multimedia Interface (HDMI)
1 Video Graphics Array (VGA)
1 USB 3.0 upstream port
4 USB 3.0 downstream ports
1 DisplayPort out
1 Audio out
DC power connector for Dell Soundbar (AX510)
Built-in Devices
USB 3.0 Hi-Speed Hub (with 1 USB upstream port and 4 USB downstream ports)
DC-out
Security
Security lock slot (cable lock sold separately)
Anti-theft stand lock slot (to panel)
Service and warranty
3 Years Advanced Exchange Service1 & Premium Panel Guarantee3
Power
Voltage Required:
100 to 240 VAC / 50 or 60 Hz ± 3 Hz / 1.5 A (Max)
Power Consumption (Operational)
32W(typical) / 90W(maximum)5
Power Consumption (Stand by / Sleep):
Less than 0.5W
Environmental
Temperature Range Operating
0° to 40°C (32° to 104°F)
Temperature Range Non-operating
Storage: -20° to 60° (-4° to 140° F)
Shipping : -20° to 60° (-4° to 140° F)
Humidity Range Operating
10% to 80% (non-condensing)
Humidity Range Non-operating
Storage : 5% to 90% (non-condensing)
Shipping : 5% to 90% (non-condensing)
Altitude Operating
5000 m (16,400 ft) max
Altitude Non-operating
10,668 m (35,000 ft) max
Regulatory
Compliant Standards
ENERGY STAR
EPEAT Gold
TCO Certified Displays
Product Safety, EMC and Environmental Datasheets
Dell Regulatory Compliance
Dell and the Environment
Berat dan ukuran Dell U2913WM monitor UltraSharp ultrawide LED(29 inch,2560 x 1080 Full HD)
Weight
Weight (panel only - for VESA mount): 5.76 kg12.80 lb
Weight with packaging:
11.35 kg
25.02 lb
Dimensions
Height with stand ( Compressed ~ Extended):
358.7 mm ~487.0 mm
14.12" ~ 19.17"
Depth: 194.2mm 7.65"
Width: 699.8 mm 27.55"
Height without stand:  317.0 mm 12.48"
Depth without stand: 61.2 mm 2.41"
Width without stand: 699.8 mm 27.55"
Isi Paket Dell U2913WM monitor UltraSharp ultrawide LED(29 inch,2560 x 1080 Full HD)
WHAT'S IN THE BOX
Monitor with stand
Power Cable
DVI Dual-Link Cable
DisplayPort Cable (Mini DP to DP)
USB3.0 upstream Cable
Cable Tie
Drivers and Documentation media
Color Calibrated Factory Report
Quick Setup Guide
Safety Information
Ringkasan Produk Dell U2913WM monitor UltraSharp ultrawide LED(29 inch,2560 x 1080 Full HD)
Sebuah panorama dengan fitur produktivitas yang luar biasa.
Pengalaman panorama 73,7 cm (29 ") Dell ™ UltraSharp U2913WM, menampilkan 2560 x 1080 Full HD, konektivitas serbaguna dan fitur produktivitas canggih.
Kelilingi diri Anda dengan layar lebar panorama.
Menavigasi beberapa aplikasi sekaligus dan multitask tidak seperti sebelumnya. A, "layar panorama luas 29 dengan 21: 9 aspek rasio dan 2560 x 1080 Full HD menawarkan ruang layar side-by-side monitor tanpa bezel mengganggu di antara. Plus, dengan 178 ° / 178 ° sudut pandang (khas) ultrawide, Anda dapat menikmati pemandangan dari hampir semua posisi.
Membenamkan diri dalam warna yang hidup.
Pengalaman sangat warna yang tepat dan akurat dimungkinkan oleh lebih dari 99 persen sRGB pada delta-E kurang dari 5, menawarkan variasi warna yang luas. Plus, U2913WM datang pabrik warna-dikalibrasi, sehingga Anda dapat menikmati akurasi warna yang luar biasa langsung dari kotak.
Menghubungkan perangkat dan membuat diri Anda nyaman.
Membuatnya bekerja untuk Anda, dengan konektivitas yang luas seperti DisplayPort 1.2, USB 3.0 *, Mini DisplayPort, DVI dan HDMI®, ditambah sangat disesuaikan tilt dan swivel positioning, 130 mm kisaran ketinggian penyesuaian dan kompatibel dengan VESA dinding mounting pilihan (pemasangan kit dijual terpisah).
Dell UltraSharp U2913WM MemantauBekerja cerdas dengan Dell Display Manager.
Sinkronisasi aplikasi Anda dan meningkatkan pengalaman visual Anda. Dell Display Manager menawarkan berbagai fitur yang dapat mengoptimalkan media presentasi Anda dan memaksimalkan real estate monitor Anda, seperti Easy Mengatur dan mode Auto.
Video Anda tidak pernah tampak begitu baik.
mengoptimalkan otomatis pengaturan video Anda dengan Smart Video Meningkatkan * fitur, mengoptimalkan warna dan ketajaman untuk presentasi terbaik. Pilih modus Film pengaturan yang disarankan, atau memilih mode Advanced untuk mengatur kontras, ketajaman, saturasi warna dan rona secara manual namun Anda suka.
Mengandung biaya dan tetap sadar lingkungan.
Tinggal hemat energi dengan PowerNap dan fitur peredupan dinamis yang secara otomatis membantu mengatur penggunaan daya. Plus, U2913WM fitur desain sadar lingkungan dengan kaca bebas arsenik, LED bebas merkuri dan BFR / PVC-free laminasi di sasis. U2913WM adalah EPEAT® Gold dan ENERGY STAR ™ berkualitas dan hadir dalam kemasan daur ulang eko-sadar.
Lengkapi pengalaman Dell UltraSharp Anda.
Anda Dell UltraSharp U2913WM hanya awal. Carilah ini penambahan besar ketika menyelesaikan pembelian Anda.