Info lainnya
Secification HDMI HDTV to VGA 3 RCA Converter Adapter Cable for Video Audio AV TV High Speed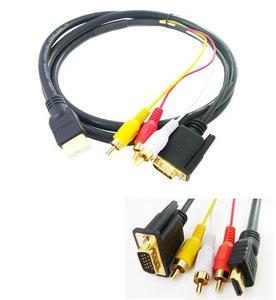 Detail
HDMI HDTV to VGA 3 RCA Converter Adapter Cable for Video Audio AV TV High Speed menghubungkan HDMI dilengkapi perangkat Anda ke monitor atau TV, memiliki dua jenis konektor output: VGA HD15 dan Video / Audio. HDMI dilengkapi perangkat termasuk high-definition DVD player, HDTV penerima, proyektor, A / V receiver, sistem Playstation. Kabel ini mendukung resolusi definisi tinggi hingga 1080p, menyediakan kualitas gambar tertinggi dan suara jelas.

Spcifications:
    * Connects your HDMI-equipped device to your monitor or TV set, such high-definition DVD player, HDTV receiver, projector, A/V receiver, Playstation system.
    * Input Connector: HDMI Male (24K Gold plated)
    * Output Connector: VGA HD15 (15-pin male), Video (1 x RCA Male) and Audio (2 x RCA Male)
    * Cable Length: 1.5M
    * Conductor: Copper
    * Color: Black
    * Cable supports 1080p, 1080i, 720p, 480p and 480i resolutions.
    * Provide high bandwidth (340 MHz/10.2 Gbps) for high-speed data transfer.
Type
    Pasif

Package Content
    HDMI HDTV to VGA 3 RCA Converter Adapter Cable for Video Audio AV TV High Speed
editor by dananggotical666