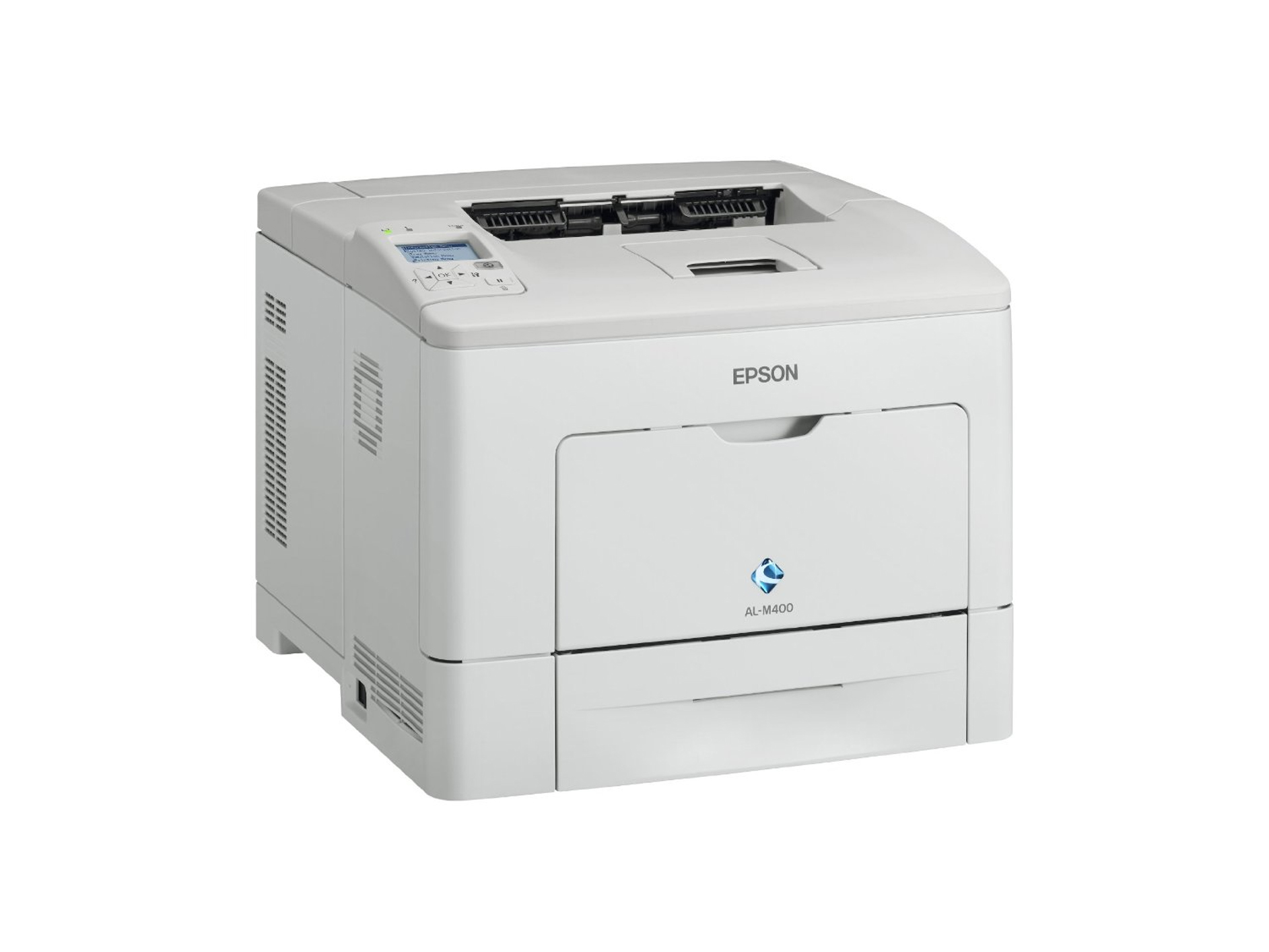 Spesifikasi Produk Epson WorkForce AL-M400DN Printer Laser A4
Printing 
Printing Technology
Laser Printer
Print Resolution
Up to 1200 x 1200 dpi
Print Speed
Up to 45ppm
First Page Out
Less than 5.5 sec (A4 simplex)
Warm Up Time
Less than 18 sec
Toner Save Mode
Yes
Maximum Monthly Volume*1
Up to 207,000 pages per month
Controller Specifications 
Processor
Dual Core 600MHz
Memory
Standard: 128MB, Maximum: 1152MB
Printer Control Language Emulations
PCL, ESC/Page, ESC/PageS, ESCP2, FX, 1239X, Adobe PostScript3, Adobe PDF
Interfaces and Connectivity 
Standard Interfaces
Hi-Speed USB 2.0, 
Ethernet (10BASE-Te/100BASE-TX/1000BASE-T)
Paper Handling 
Standard Paper Input
Up to 700 sheets
Maximum Paper Input
Up to 2350 sheets
(150 sheets MP tray + 550 sheets standard cassette + 3 x 550 sheets optional paper cassette)
Paper Size
A4, A5, A6, B5, LT, HLT, LGL, GLG, EXE, F4, Monarch, DL, C6
Custom: Width: 76.2 -215.9mm / Length: 127 -355.6mm
Paper Weight
60 - 216g/m2
Paper Type
Plain paper / Recycled paper / Semi thick paper / Thick paper / Extra thick paper / 
Preprinted paper / Colour paper / Letterhead / Label / Envelopes / Special paper
Duplex
Standard
Paper Output Standard / Maximum
Up to 250 sheets
Power Requirements 
Energy Star Certified
Yes
Rated Voltage / Frequency / Current
AC220V - 240V±10% 50Hz / 60Hz ± 3Hz
Power Consumption 
Printing (Ave)
454W
Ready
52W
Sleep
2.80W
Deep Sleep
1.02W
Power Off
0W
System Requirement & OS Support 
WindowsWindows7 (32bit/64bit) / Windows8 (32bit/64bit) / Windows Vista (32bit/64bit) 
Windows XP (32bit/64bit) / Server 2003 (32bit/64bit) / Server 2008 (32bit/64bit) 
Server 2008R2 (64bit) / Server 2012 (64bit)
Mac
Mac OS X 10.5.8 or later
Environmental Conditions 
Temperature
Operating: 5 ~ 32°C / Storage –20 ~ 40°C
Humidity
Operating: 15 ~ 85%RH / Storage 15 ~ 85%RH
Sound Power *2
Printing mode: 7.48B 
Ready mode: 5.30B
Sound Pressure *2
Printing mode: 55.9dB 
Ready mode: 24.9B (Reference value)
Consumables
Initial Toner
6,200 pages (N.A)
Standard Capacity Toner Cartridge *3
12,000 pages (C13S050698)
High Capacity Toner Cartridge *3
23,700 pages (C13S050697)
Photoconductor Unit
100,000 pages (C13S051230)
Maintainance Unit (220V) *4
200,000 pages (C13S053057)
Options Order Code
550-Sheet Paper Cassette Unit
C12C802771
512MB Additional Memory
C12C822121

Berat dan ukuran Epson WorkForce AL-M400DN Printer Laser A4
Dimension
393mm (15.5") x 426mm (16.8") x 324mm (12.8")
Weight
14kg (30.9lb)

Isi Paket Produk Epson WorkForce AL-M400DN Printer Laser A4
1xEpson WorkForce AL-M400DN Printer Laser A4

Ringkasan produk Epson WorkForce AL-M400DN Printer Laser A4
Kinerja yang unggul dan Handal
AL-M400DN memiliki prosesor dual core 600MHz dan fitur canggih lainnya untuk meningkatkan efisiensi pencetakan dan kehandalan. Mengurangi waktu tunggu dengan pertama kali halaman-out kurang dari 5,5 detik dan kecepatan cetak 45ppm cepat. Anda dapat dengan mudah mencetak hingga 207.000 halaman per bulan, membuat dokumen hitam-putih mencetak usaha untuk bisnis Anda. 

Sangat Rendah Dalam Hal Biaya
Ambil pencetakan ekonomis untuk tingkat yang lebih tinggi dengan opsional cartridge kapasitas tinggi toner yang memungkinkan pencetakan volume yang lebih tinggi dengan biaya lebih rendah per halaman. Mereka mengurangi kebutuhan untuk mengubah toner sering dengan memberikan 23.700 halaman dibandingkan cartridge kapasitas standar pada 12.000 halaman. 
Efisiensi Scales bersama Pertumbuhan
Dengan fitur-fitur manajemen cetak baru, menikmati efisiensi yang luar biasa yang tumbuh dengan kebutuhan pencetakan Anda.Pengguna dapat menggabungkan beberapa pekerjaan cetak dengan Print Job Arranger dan menyesuaikan pengaturan cetak untuk pekerjaan cetak individu secara simultan. Untuk dokumen multi-halaman, pengaturan cetak dapat disesuaikan untuk setiap halaman. Contohnya termasuk landscape / orientasi portrait, single / double-sided, perubahan ukuran kertas, tata letak halaman (hingga 4-up), dan halaman menata ulang dalam pekerjaan cetak.
Cetak fitur Job Gangguan memungkinkan pengguna untuk mengganggu antrian cetak saat pencetakan dengan darurat tinggi sedang diproses.
Sebagai bisnis berkembang, pengguna bisa menambahkan pada 3 tambahan kaset 550 lembar kertas untuk menampung volume yang lebih tinggi dari pencetakan hingga 2.350 lembar. Untuk mengakomodasi pekerjaan cetak yang lebih besar dan lebih kompleks, meng-upgrade memori printer untuk 1152mb dengan upgrade RAM opsional.
Keamanan dan Konektivitas Superb Fitur
Cetak aman 
Fitur Percetakan aman mencegah akses tidak sah ke dokumen-dokumen rahasia dengan mengadakan pekerjaan di printer sampai pengguna memasukkan password. Ini juga mendukung IPSEC enkripsi / SSL untuk pencetakan aman informasi sensitif dan rahasia dan meminimalkan risiko kebocoran informasi. Fitur pencetakan aman hanya tersedia dengan RAM upgrade. 

Epson iPrint
Pencetakan workgroup mudah mungkin dengan konektivitas jaringan. Mudah mencetak secara nirkabel dari perangkat iOS Apple ® ™ dan Android® dengan Epson iPrint saat printer terhubung ke router Wi-Fi.
Ruang Menyimpan Desain
AL-M400DN yang kompak dirancang dengan tapak yang kecil untuk mengambil banyak ruang. Ruang penyimpanan juga berkurang dengan cartridge toner yang jauh lebih kecil dari toner konvensional