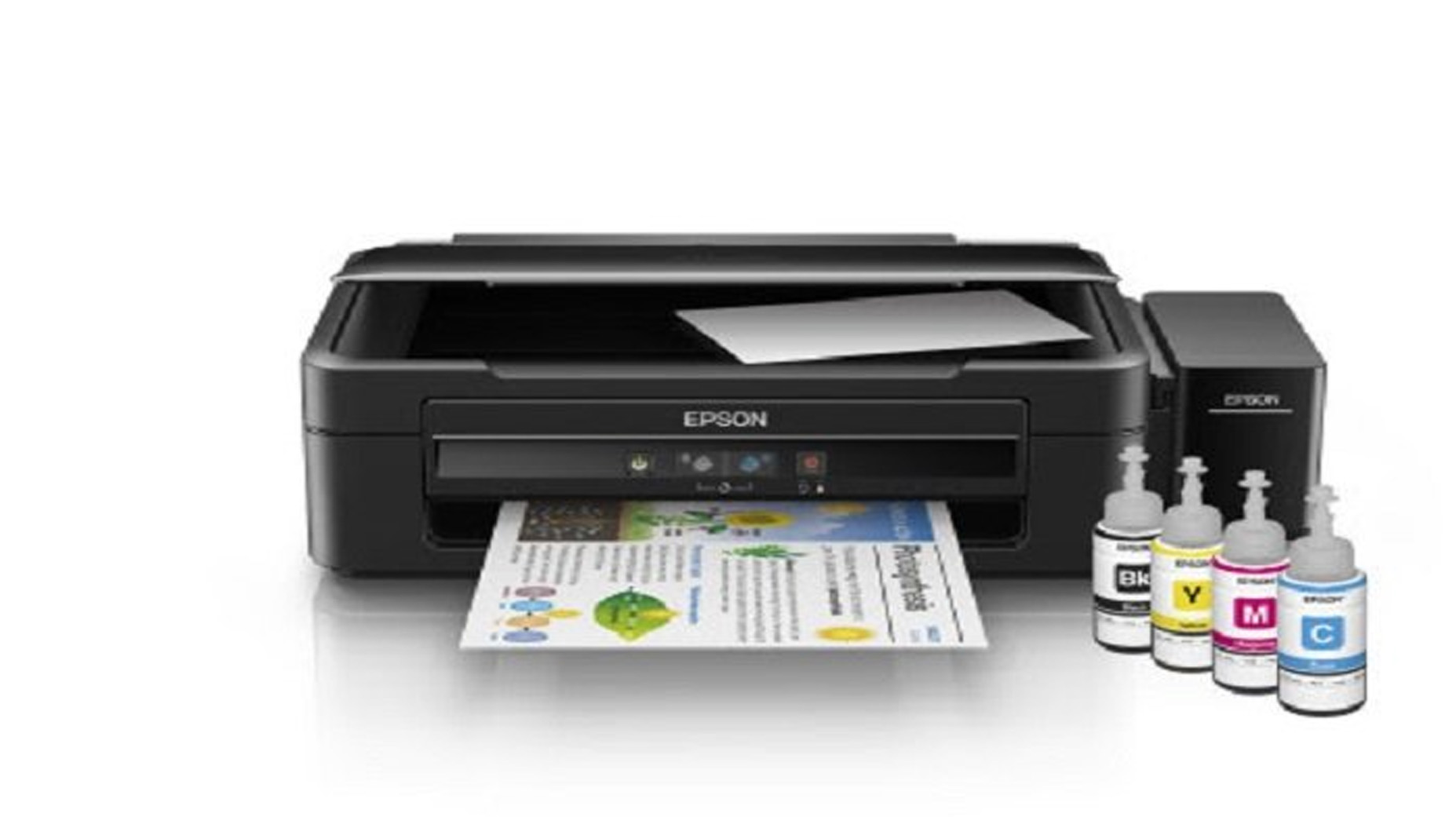 Spesifikasi Epson L380 All-in-One Ink Tank Printer
Print Speed
Max Photo Draft - 10x15cm/4x6"
Approx. 27 sec per photo (W/Border)
Max Draft Text - Memo (A4)
Approx. 33 ppm / 15 ppm (Black/Colour)
Photo Default - 10x15cm/4x6"
Approx. 69 sec per photo (W/Border)
ISO 24734, A4, Simplex
Approx. 10 ipm / 5.0 ipm (Black/Colour)
Scan Speed (Flatbed)
Monochrome 300 dpi
11 sec
Colour 300 dpi
28 sec
Epson Genuine Inks
Black
664 | Page Yield: 4,500 pages
Cyan
664 | Page Yield: 7,500 pages (Composite Yield)
Yellow
664 | Page Yield: 7,500 pages (Composite Yield)
Magenta
664 | Page Yield: 7,500 pages (Composite Yield)
Printing
Print Method
On-demand ink jet (piezoelectric)
Nozzle Configuration
180 nozzles Black, 59 nozzles per colour (Cyan, Magenta, Yellow)
Print Direction
Bi-directional printing, Uni-directional printing
Maximum Resolution
5760 x 1440 dpi (with Variable-Sized Droplet Technology)
Minimum Ink Droplet Volume
3 pl
Copying
Maximum Copies From Standalone
20 copies
Maximum Copy Size
A4, Letter
ISO 29183, A4, Simplex
Approx. 7.7 ipm / 3.8 ipm (Black/Colour)
Copy Quality
Standard copy mode
Scanning
Scanner Type
Flatbed colour image scanner
Sensor Type
CIS
Optical Resolution
600 x 1200 dpi
Maximum Scan Area
216 x 297 mm (8.5 x 11.7 ")
Printer Software
Operating System Compatibility
Windows XP / Vista / 7 / 8 / 8.1 / 10
Mac OS X 10.6.8 or later
Power Consumption
Operating
13 W
Standby
3.8 W
Sleep
0.8 W
Power Off
0.3 W
Interface
USB
Hi-Speed USB 2.0
Electrical Specifications
Rated Voltage
AC 100 - 240 V Universal
Rated Frequency
50 - 60 Hz
Scanner Bit Depth
Colour
48-bit input, 24-bit output
Grayscale
16-bit input, 8-bit output
Black & White
16-bit input, 1-bit output
Paper Hold Capacity
Input Capacity
100 sheets, A4 Plain paper (75 gsm)
Output Capacity
20 sheets, Premium Glossy Photo Paper
30 sheets, A4 Plain Paper
20 sheets, Premium Glossy Photo Paper
Paper Size
A4, A5, A6, B5, 10 x 15 cm (4 x 6 in), 13 x 18 cm (5 x 7 in), 9 x 13 cm (3.5 x 5 in),
Letter (8½ x 11 in), Legal (8½ x 14 in), 100 x 148 mm, Envelopes: #10, DL, C6
Print Margin
3 mm top, left, right, bottom via custom settings in printer driver
Maximum Paper Size
215.9 x 1,117.6 mm (8.5 " x 44 ")
Noise Level
PC Printing / Plain Paper Default
5.9 B(A), 47 dB(A)
PC Printing / Premium Glossy Photo Paper Best Photo
5.2 B(A), 38 dB(A)
Berat dan ukuran Epson L380 All-in-One Ink Tank Printer
| | |
| --- | --- |
| Weight | 4.4kg (9.7lb) |
| Dimensions | 482mm x 300mm x 145mm |
Isi Paket Epson L380 All-in-One Ink Tank Printer
1xEpson L380 All-in-One Ink Tank Printer
Ringkasan Produk Epson L380 All-in-One Ink Tank Printer
Tinggi Volume Percetakan dengan Peace of Mind
L380 dibundel dengan 2 botol tinta hitam tambahan bersama dengan 1 set botol tinta. Ini berarti Anda dapat menikmati pencetakan volume tinggi tanpa harus khawatir tentang biaya.
Nikmati cakupan garansi hingga 2 tahun atau 50.000 cetakan *, mana yang lebih dulu, untuk nilai maksimum dari printer Anda dan kebebasan dari kekhawatiran atas pemeliharaan. garansi Epson meliputi cakupan printhead, yang paling penting untuk printer yang dirancang untuk pencetakan volume tinggi.
* Untuk waktu yang terbatas saja.
Ekonomis & Efisien
sistem tangki tinta terbukti Epson memberikan cetak handal dengan ekonomi yang tak tertandingi. Setiap set Epson botol tinta asli memungkinkan Anda menikmati hasil halaman ultra-tinggi hingga 7.500 halaman dalam warna dan 4.500 halaman hitam dengan biaya operasional yang sangat rendah.
Dengan desain botol tip dipatenkan untuk memungkinkan mudah dan mess-bebas isi ulang, tabung di printer juga dirancang untuk menjadi lebar optimal untuk memastikan aliran tinta halus dan dapat diandalkan setiap saat.
Besar Kecepatan, Produktivitas Lebih Baik
kecepatan cetak meningkat hingga 10ipm untuk hitam dan 5.0ipm bantuan warna Anda untuk mencetak lebih banyak dalam waktu kurang.
Kualitas Cetak tak tertandingi
Resolusi mencengangkan tinggi 5760 dpi memberikan kualitas cetak yang sangat tinggi untuk semua kebutuhan pribadi dan kreatif Anda.
One Touch Scan dan Copy
The all-in-one L380 memberikan Anda kenyamanan tambahan fungsi pemindaian dan menyalin. Berkat tepat 600 x 1200 dpi sensor nya, scan yang tajam dan jelas sementara salinan mode draft selesai hanya dalam 5 detik untuk hitam dan 10 detik untuk warna.
Hemat-ruang Desain
The L380 yang kompak dirancang. tapak yang kecil berarti Anda dapat muat dengan nyaman di mana saja di rumah Anda.
Kualitas Itu Bersinar. Nilai yang Lasts.
Epson botol tinta asli diformulasikan untuk memberikan kualitas cetak volume tinggi yang luar biasa dengan printer L-series. Setiap botol secara individual disegel untuk memastikan kemurnian tinta dan dilengkapi dengan tip cerdas dirancang untuk isi ulang gratis berantakan. Pilih tinta asli Epson untuk menikmati kualitas yang langgeng dengan printer L-series Anda.