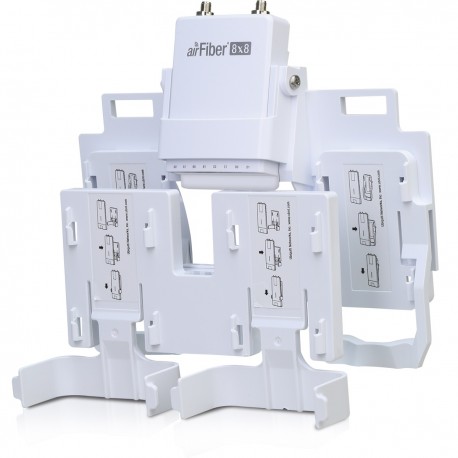 Spesifikasi Ubiquiti AF-MPX8 Scalable airFiber® MIMO Multiplexer 8x8
RF Connectors
2 x RP-SMA Weatherproof (CH0, CH1)
8 x RP-SMA Weatherproof (A0, A1, B0, B1, C0, C1, D0, D1)
Cable Loss
7.2 dB
Supported Radio Technologies
Supported airFiber X Radio: AF-5X
Multiplexer
Multiplex MIMO: 4 x (2x2)
Mounting
airFiber X / Rocket Mount compatible
Berat dan ukuran Ubiquiti AF-MPX8 Scalable airFiber® MIMO Multiplexer 8x8
| | |
| --- | --- |
| Dimensions | 210.5 x 240.9 x 109.0 mm |
| Weight | 0.45 kg |
Ringkasan Produk Ubiquiti AF-MPX8 Scalable airFiber® MIMO Multiplexer 8x8
Upgrade jaringan nirkabel Anda untuk multi - Gigabit throughput yang dengan AF - MPX8 Scalable airFiber MIMO Multiplexer dari Ubiquiti Networks . Gunung empat radio airFiber 5X untuk antena parabola tunggal dengan menggunakan multiplexer ini dan meningkatkan data throughput hingga 400 % sehingga kecepatan data ditingkatkan seiring dengan perbaikan redundansi jaringan . Konfigurasi quad radio mendukung 8x8 MIMO tingkat cakupan penawaran transfer data hingga 2 Gbps , yang sempurna untuk transfer data yang besar , multimedia streaming dan banyak lagi . Selain itu, AF - MPX8 dilengkapi dengan built -in sinkronisasi GPS untuk memberikan peningkatan waktu jaringan sambil membantu menghilangkan kesalahan lalu lintas dan kemacetan .
Multi-Gigabit Throughput
The airFiber NxN is an engineered MIMO multiplexer that increases the throughput of your airFiber link by up to 400%, while simultaneously establishing redundancy without the need of additional antennas.
The airFiber NxN is a scalable MIMO multiplexer that combines multiple airFiber 5X radios on a single dish antenna for enhanced noise immunity performance, redundancy, and multi-Gigabit throughput.
Upgrading a 5 GHz airMAX or airFiber link is fast and easy. Simply attach the airFiber NxN to the fast-mount on the antenna and connect the RF cables.
Precise GPS Synchronization
Using a common GPS timing reference, the airFiber 5X radios work cohesively to deliver powerful, multi-Gigabit bridging performance for PtP links.
8x8 MIMO Backhaul Technology
Simply mount four airFiber 5X radios for plug and play installation. You can use multiple channels-even adjacent channels with no guard band-and place them anywhere within the radio band.
Reduced Tower Costs
Multiple airFiber 5X radios mounted on a single dish antenna maximizes throughput and capacity in a clean, compact tower footprint, minimizing tower costs.