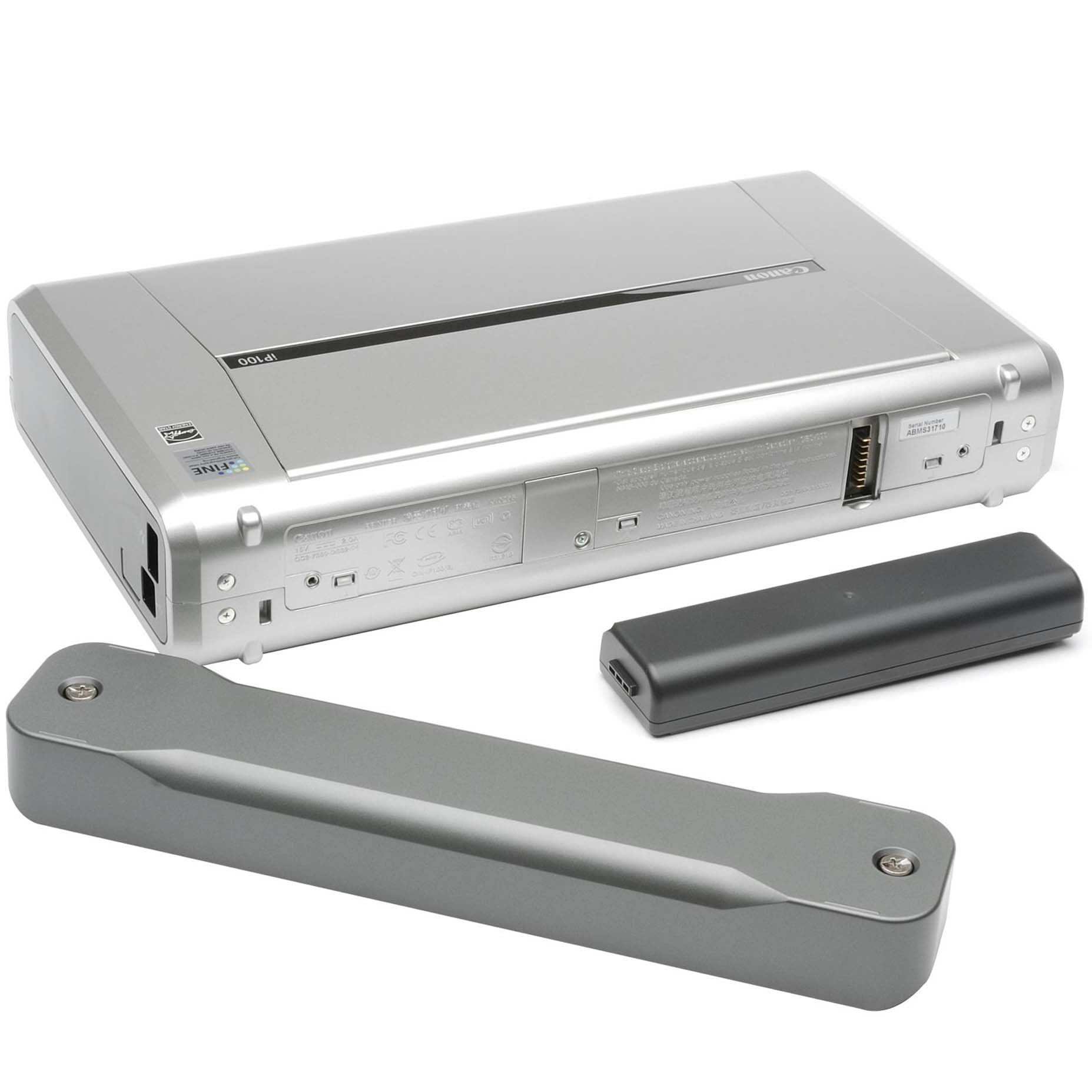 Spesifikasi produk Printer Canon IP100 With Battery
Printer Type   Photo Printer

Print Speed (up to)   4" x 6" borderless photo: approx. 50 seconds

Black:ESAT Approx: 9.0 ipm2

Color:ESAT Approx: 5.9 ipm2

Number of Nozzles   Black: 320

Color: 1,536

Total: 1,856

Print Resolution (Up to)   Black:600 x 600 dpi1

Color:9600 x 2400 dpi1

OS Compatibility   Windows®7, Windows Vista™, Windows XP/2000 and Mac OS® X v.10.3.9 to 10.5.x7

Standard Interfaces   PictBridge (Cable not included)5, USB 2.0 Hi-Speed, IrDA, Bluetooth® v2.0 + EDR4(optional)

Paper Sizes   Credit Card (2.13" x 3.39"), 4" x 6," 4" x 8," 5" x 7," 8" x 10," Letter, Legal, U.S. #10 Envelopes, Photo Stickers

Noise Level Approx   38.5 dB(A) in the best quality mode

Physical Dimensions   12.7"(W) x 2.4"(H) x 7.2"(D)

Weight   4.4 lbs.

Power Consumption   9W (1.5W Standby)

Software Included   CD-ROM including Printer Driver, Setup Software and User's Guide, Easy-PhotoPrint EX 

Ringkasan produk Printer Canon IP100 With Battery
Resolusi gaya Printer Tinggi for Mobile Lifestyle
Profesional mobile saat ini memiliki tekanan yang lebih dari sebelumnya untuk dapat melakukan bisnis hampir di mana saja. The kasar, kompak iP100 Mobile Printer memberikan kualitas luar biasa dan cetak di mana saja portabilitas. Ini memberi pengguna kemampuan untuk mencetak indah bingkai foto berwarna dari mobil atau bahkan di pantai. Dipatenkan teknologi cetak kepala dan 5-warna sistem tinta membiarkan Anda membuat foto spektakuler dengan dpi1 resolusi warna 9600 x 2400 (maks.) Seberapa cepat? Sebuah foto kualitas laboratorium 4 "x 6" borderless print hanya memakan waktu sekitar 50 seconds2. Menawarkan IrDA compatibility3 dan opsional BU-30 Bluetooth interface4, sehingga Anda dapat mencetak secara nirkabel dari PC, PDA atau telepon kamera. Atau, menghubungkan kamera digital dan mencetak foto langsung tanpa PC diperlukan! Sebuah mobil opsional adaptor Canon dan isi ulang kit baterai memberikan daya di mana saja. Plus, fitur Auto Image Fix mengoreksi gambar yang terbaik mungkin terkena, warna, kecerahan dan kontras.

Printer ini telah meningkatkan resolusi warna dengan kecepatan cetak yang lebih cepat dibandingkan model sebelumnya, sekaligus menawarkan sejumlah aksesoris yang membuatnya lebih mudah untuk melakukan bisnis di luar kantor. The Canon PIXMA iP100 ringan Printer Mobile cocok dengan mudah ke sebuah meja dengan ruang terbatas atau menjadi carry-on, sehingga pendamping laptop yang sempurna untuk bisnis atau perjalanan pribadi.
Speed & Quality
Resolusi Spektakuler - Ini mobile printer serbaguna memberikan resolusi hingga 9600 x 2400 dpi warna, 1 untuk detail spektakuler dan kejelasan. Manfaatnya adalah kualitas yang luar biasa untuk dokumen bisnis Anda dari surat pengantar untuk presentasi penuh warna.
Cepat Percetakan - The PIXMA iP100 Printer Mobile membuktikan fleksibilitas dengan memberikan kualitas warna dan dokumen bisnis monokrom, bagan, dan grafik, serta kualitas foto yang menakjubkan cetakan. Dengan kecepatan cetak hingga 9 gambar per menit (ipm) untuk hitam dan hingga 5,9 ipm2 untuk warna, mobile printer ini dapat memberikan proyek-proyek klien-siap lebih cepat dari model sebelumnya. Selain itu, akan ada dua tinta hitam, satu berbasis pigmen tinta hitam yang memberikan seperti laser teks yang tajam dan satu lagi untuk mencetak foto kaya. Ukuran keseluruhan pigmen tangki tinta hitam telah meningkat sebesar 50%, mengurangi risiko kehabisan tinta selama proyek-menit terakhir.

Teknologi HALUS - Canon Full-fotolitografi Inkjet Nozzle Engineering (HALUS) menggunakan print head nozel dipatenkan dengan 1.856 presisi, tetesan tinta mendepak sekecil 1 picoliter. Artinya? Lebih nozel + akurasi tinggi + tetesan kecil = gambar yang mengagumkan.

Kemudahan Penggunaan

Auto Fix Image - Built-in Auto Image fitur Fix membantu Anda menghasilkan hasil yang luar biasa pada semua foto Anda. Pertama, mengkategorikan gambar Anda ke dalam salah satu dari lima jenis - Potret, Pemandangan, Pemandangan Malam, Snapshot dengan Latar, dan Snapshot dengan Pemandangan Malam - maka berlaku koreksi gambar yang optimal sesuai. Sebagai contoh, maka secara otomatis akan mencerahkan wajah yang backlit dan kurang terbuka, dan warna yang benar pemain untuk membantu memastikan warna kulit akurat.
Konektivitas dan Portabilitas

Mencetak di mana saja, tanpa kabel - The go-mana saja iP100 printer menawarkan kompatibilitas IrDA3 dan opsional BU-30 Bluetooth interface4, memungkinkan Anda untuk mencetak secara nirkabel dari PC, PDA atau telepon kamera. Anda juga dapat menghubungkan kamera digital yang kompatibel, ponsel kamera atau camcorder DV melalui PictBridge dan mencetak foto langsung - tanpa PC diperlukan! Untuk portabilitas maksimum, mobil adaptor Canon opsional dan dapat diisi ulang baterai kit menyediakan tenaga di manapun Anda berada.

Opsional Aksesoris-Untuk mencocokkan desain baru dari printer, Canon akan menawarkan opsional LK-62 baterai Lithium Ion dengan halaman 290 perkiraan hidup per charge selama tiga jam, bersama dengan perumahan baterai yang terhubung ke printer. Ponsel Profesional on-the-go terutama akan mendapatkan keuntungan dari opsional Automobile Power Unit (PU-200U). Pengguna yang sering bekerja dari mobil mereka dapat menggunakan Power Unit Automible kekuasaan mereka PIXMA iP100 Printer Mobile secara langsung melalui soket listrik mobil.
Proyek Cetak Fun

Bayangkan dan mengeksplorasi semua kemungkinan dengan Creative Park. Anda akan menemukan banyak bahan menyenangkan Anda dapat men-download dan mencetak secara GRATIS! Nikmati kerajinan kreatif seperti Kerajinan Kertas 3D, Scrapbooking, Kartu Ucapan dan banyak lagi!
Canon Generation Green
Generasi Hijau adalah inisiatif baru lingkungan Canon. Program ini meliputi Scanner memenuhi syarat, PIXMA Printer Inkjet dan printer laser imageCLASS. Generasi Hijau ini dirancang untuk memberikan mitra bisnis, pelanggan dan konsumen cara untuk belajar tentang pendekatan ramah lingkungan yang Canon adalah mengambil untuk merancang banyak produk saat ini dan masa depan dan solusi, misalnya, kemungkinan penghematan biaya melalui efisiensi energi. IP100 memiliki karakteristik Hijau Generasi berikut:


4 in 1, 2 in 1 Percetakan - Pilihan ini memungkinkan pengguna untuk menempatkan beberapa halaman pada 1 halaman, menghemat hingga 75% dari pasokan kertas Anda.

Ink Saver Mode - Fitur ini memungkinkan Anda untuk menggunakan lebih sedikit tinta saat mencetak untuk membuat tinta Anda bertahan lebih lama dan mengurangi jumlah kartrid tinta terbuang. (Hal ini dapat mempengaruhi kualitas cetak foto.)

ENERGY STAR - produk Berkualitas adalah 25% lebih efisien daripada model konvensional. Dengan menggunakan energi lebih sedikit, produk ini mengurangi emisi gas rumah kaca dan menghemat energi serta uang.

Auto Power On / Off: Fitur ini hemat energi kekuasaan secara otomatis aktif setelah printer tidak menerima data untuk jangka waktu tertentu. Printer kemudian secara otomatis kekuasaan pada saat menerima data dari PC.

RoHS Compliance - Ini adalah arahan dari Uni Eropa yang membatasi penggunaan bahan berbahaya ditemukan dalam produk elektronik. Produk ini tidak mengandung kadmium, merkuri, timbal, kromium heksavalen, polibro (PBB), atau difenil eter bifenil (PBDE).

Penggunaan Plastik Daur Ulang - Plastik Daur Ulang digunakan dalam casing power supply.