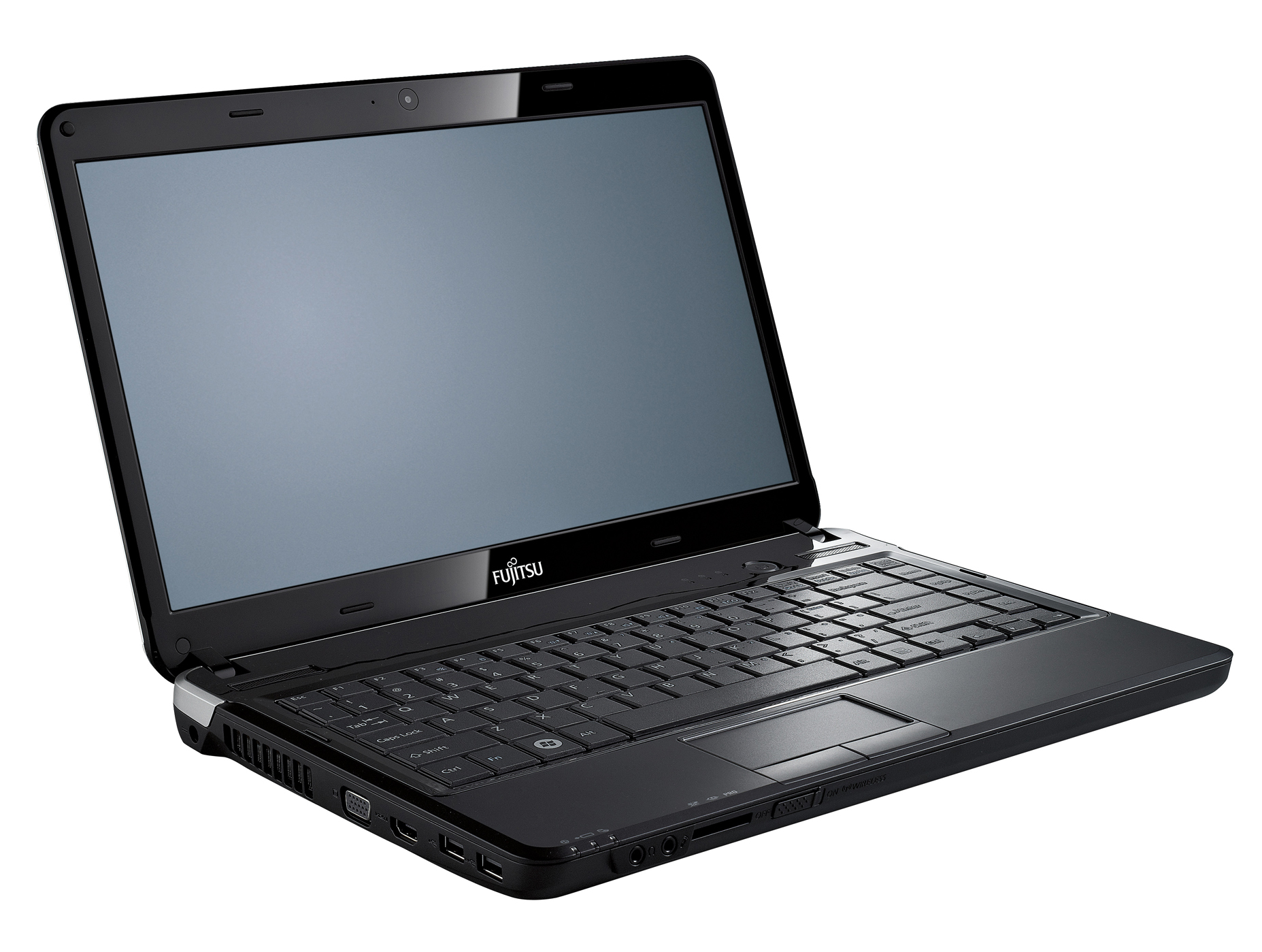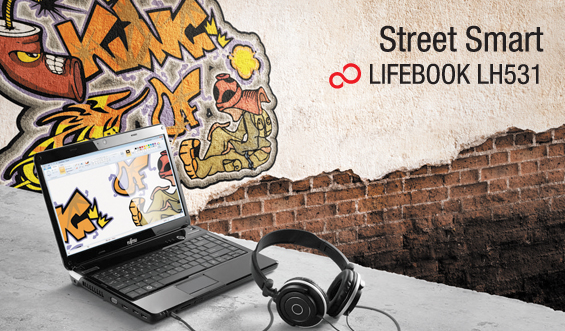 Fujitsu Lifebook LH531 adalah notebook gaya hidup utama yang semua orang bicarakan. Karena itu terjangkau dan itu Fujitsu. Itu berarti kualitas terjamin, ukuran yang tepat dan warna yang keren! Ini notebook portabel hanya berbobot 2,1 kg dan memiliki layar 14-inci dengan HDMI output; banyak bungkus kinerja dan fitur untuk sebagian besar kebutuhan komputasi Anda. USB pengisian memungkinkan Anda mengisi itu ketika itu off dan datang di Black Shiny, Garnet Merah dan Pink Cherry
Komputasi sehari-hari memenuhi grafis brilian. Video Anda dan gambar akan terlihat lebih baik dari sebelumnya pada LCD 14-inci Definisi Tinggi powered by 1GB VRAM.

Genuine Windows ® 7 Home Profesional membuat hal yang Anda lakukan setiap hari lebih cepat dan lebih mudah.

LH531 bungkus banyak kinerja dan fitur untuk sebagian besar kebutuhan komputasi Anda, bahkan termasuk fitur muka seperti USB Charging dan Nvidia Optimus.

Peningkatan kinerja dengan Generasi teknologi Intel ® 2 Processor Core termasuk fitur baru seperti Intel ® Turbo Boost Technology 2.0. Bersama dengan Nvidia Optimus grafis, Anda memiliki yang terbaik dari kedua dunia dalam hal kinerja dan umur baterai.

Filosofi desain Jepang Best Tech. Kurva beraksen pada profil sisinya merupakan kekuatan Blade Katana Jepang.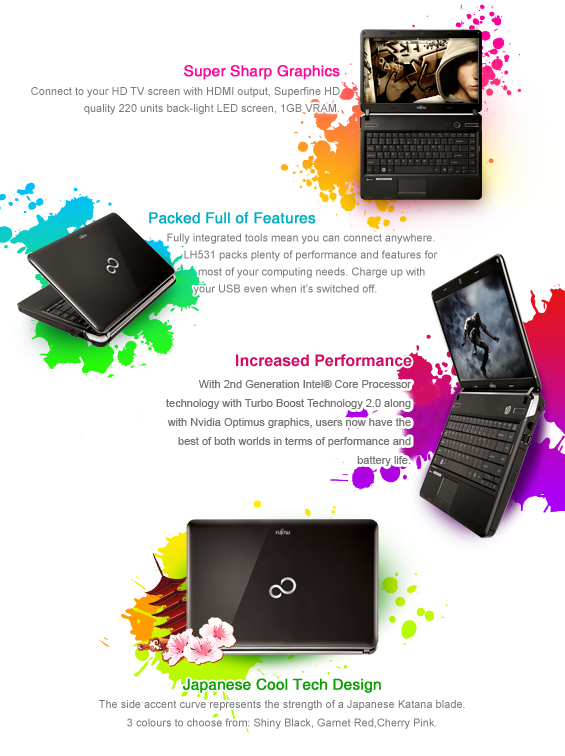 Specification Fujitsu Lifebook LH531
Specifications
Platform    
Intel® Core™ i3-2350M processor (2.30GHz)

Operating System    
DOS

Display
High Definition SuperFine LCD 14-inch (16:9) SuperFine HD 220nits back-light LED, 1366 x 768 pixels

Built-in Bay Device    
Dual Layer DVD Super Multi Writer3

Memory    
2GB 1333Mhz 

Hard Disk    
640GB

Battery    
4400mAh battery up to 6.5hrs4

Weight    
Approx. 2.1Kg

Detailed Specifications
Hard Disk Drive    
SATA-150 5400rpm / 7200rpm, S.M.A.R.T support, Two Partitions - 50/505

Graphics    
NVIDIA GeForce 410M with Optimus™ technology and 1GB of dedicated video memory / Intel® HD Graphics 300012

High Definition (HD) Audio    
Dual Built-in Stereo Speakers with Built-in Digital Microphone
HD Audio-in: External Mic-in
HD Audio-out: Headphone-out

Communication    
1.3 Mega Pixel camera, Bluetooth®, 10/100/1000 Mbps6 Ethernet and WLAN 802.11BGN wireless network connection. Separate ON/OFF switch for wireless network connection.

User Interface    
Spill-resistant Keyboard7
Intelligent Touch Pad with configurable vertical and horizontal scroll functions

Card Slots    
Secured Digital / SDHC/ Memory Stick

Connector Interface    
USB 2.0 x 1 (USB-Charging), USB 2.0 x 3, VGA (external display), RJ45 (LAN), HDMI, HDA-in, HDA-out, Power Adapter DC-in

Quick Launch Panel    
Five Programmable Application Launch Buttons (Support, Mail, Internet, ECO and Camera button)

Security8    
BIOS Lock, Hard Disk Lock, Anti-theft Lock Slot

Dimensions    
335mm (W) x 240mm (D) x 35.4mm (H)

Colours    
Matt Black (For Intel® HD Graphics version Only)
Shiny Black
Garnet Red
Cherry Pink

Bundled Accessories
AC Adapter    
Input AC 100~240V, Output DC 19V 80W

Bundled Softwares    
CyberLink PowerDVD™, Cyberlink PowerDirector™, CyberLink YouCam™, Roxio Creator LJ, Adobe Acrobat Reader, Fujitsu UpdateNavi9, Fujitsu Power Saving Utility, Fujitsu Display Manager, Fujitsu MyRecovery, Fujitsu Anytime USB Charge, Sun Microsystems Java Runtime, Windows Live Essentials (Windows Live Messenger, Windows Photo Gallery, Windows Live Mail, Windows Live Writer, Windows Live Mesh, Windows Live Movie Maker), Symantec Internet Security 60 days trial, Microsoft® Office Starter: reduced-functionality Word and Excel® only, with advertising. No PowerPoint® or Outlook®.10

Optional Accessories
Memory Module    
4GB DDR3, 1333MHz

Media    
Fujitsu Portable Speakers (Black)
Informasi di atas menunjukkan spesifikasi teknis umum produk dan tidak mewakili konfigurasi aktual yang akan dijual di wilayah Anda. Untuk konfigurasi tertentu dan ketersediaannya, hubungi distributor lokal Anda.
Penolakan

1. Silakan periksa bundling sebenarnya dengan distributor di negara setempat. Intel ® Core ™ i7-2620M mengacu pada 2.70GHz, 4MB L3 cache. i5-2520M mengacu pada 2.50GHz, 3MB L3 cache. i3-2310M mengacu pada 2.10GHz, 3MB L3 cache.

2. Itu wajar untuk semua transistor film tipis (TFT) liquid crystal display (LCD) untuk menunjukkan sejumlah kecil titik yang hilang atau berubah warna. Ini biasanya dikenal sebagai non-conforming piksel. Ini adalah keterbatasan teknologi LCD TFT dan tidak mewakili cacat. Fujitsu garansi tidak mencakup keterbatasan dalam teknologi seperti tidak sesuai piksel.

3. Mendukung DVD multi format seperti DVD-RAM, DVD ± R DL, DVD ± RW, DVD ± R, CD-RW, DVD-ROM, CD-R dan CD-ROM.

4. Hasil yang diperoleh dari BAPCoÒ MobileMarkÒ2007 (Beban Kerja Produktivitas) dilakukan pada sistem dengan maksimum pengaturan hidup baterei di bawah lingkungan laboratorium pengujian. Daya tahan baterai akan bervariasi berdasarkan kecerahan layar, pengaturan volume suara, menjalankan aplikasi, peripheral terhubung, pengaturan manajemen daya, pendingin baterai, dan preferensi pelanggan lain dalam situasi kehidupan nyata. Built-in perangkat teluk atau penggunaan hard drive juga mungkin memiliki dampak yang signifikan terhadap daya tahan baterai. Catatan: Baterai berbasis Intel ® Core i3-2310M dengan Intel ® HD Graphics 3000 (LH531) / grafis Diskrit (LH701)

5. Ini mengacu ke Windows ® 7 hard disk drive C: dan D: . 50/50 mengacu pada alokasi 50% perkiraan dari pengguna penyimpanan disk diakses keras ke C: dan D: drive masing-masing. Untuk Windows ® 7 hard disk drive, 16GB akan disediakan untuk pemulihan internal.

6. Istilah ini tidak mewakili tingkat aktual data dan hanya menunjukkan kepatuhan dengan IEEE 802.3, IEEE 802.3u dan 802.3ab standar IEEE. Maksimum data rate yang sebenarnya tergantung pada konfigurasi jaringan, kondisi kabel serta perangkat yang terhubung.

7. Spill-resistant keyboard tidak berarti sistem adalah air-bukti. Jika cairan yang tumpah ke listrik, keyboard dari sistem segera dan mengubah notebook terbalik untuk mengalirkan cairan.

8. BIOS Lock membutuhkan password supervisor / user untuk mengakses setup BIOS. Konfigurasi BIOS dapat dikonfigurasi untuk menanyakan password pada semua urutan boot. Akses ke BIOS setup yang diperlukan untuk mengkonfigurasi Kunci Hard Disk. Kunci Hard Disk membutuhkan Kunci akses untuk mengambil data pada hard disk. Ini adalah Kerahasiaan data fitur keamanan. Anti-pencurian Slot Kunci memungkinkan penggunaan kunci secara fisik mengamankan LifeBook tersebut. Keamanan penuh unlock urutan - Bootup Lock (BIOS Kunci), Kunci Hard Disk. CATATAN: Kehilangan kata sandi membutuhkan LifeBook harus dikembalikan ke pabrik Jepang untuk sistem refresh. Biaya pengiriman dan data yang hilang akan ditanggung oleh pelanggan. Backup profil pengguna Anda sebelum mengganti HDD. Jika HDD Lock cepat diaktifkan, hanya Password HDD dapat digunakan untuk boot unit. Kehilangan kata sandi berarti isi HDD tidak dapat diambil. Ini adalah tanggung jawab pelanggan untuk memastikan menjaga aman dari password untuk pengambilan data dari HDD terkunci.

9. UpdateNavi adalah aplikasi proprietary Fujitsu LifeBook bahwa driver update dengan menghubungkan secara otomatis ke server Fujitsu. Ini akan membantu Anda memperbarui LifeBook dengan driver software terbaru dan utilitas untuk memastikan kompatibilitas antara perangkat keras dan perangkat lunak, menjaga kelancaran kapanpun, dimanapun.

10. PC ini dimuat dengan pengurangan fungsionalitas versi Word dan Excel yang mencakup iklan. Membeli Office 2010 Product Key untuk mengaktifkan fitur lengkap perangkat lunak Office pada PC ini.

11. RoHS (Restriction pada Hazardous Substances) kepatuhan berarti sistem dan komponen internal sesuai dengan RoHS Uni Eropa direktif (2002/95/EC) pada penggunaan terbatas dari enam bahan berbahaya dalam pembuatan sistem dan komponen internal.

12. Intel ® HD Graphics tergantung pada spesifikasi prosesor. Intel ® HD Graphics 3000 yang tertanam pada Intel ® Core ™ i5-2450M / I3-2350M. Intel ® HD Graphics tertanam pada Intel ® Pentium ® B960.



Spesifikasi tercermin di atas adalah rekayasa dan perangkat keras spesifikasi. Mereka tidak mewakili penggunaan aktual atau dimensi operasi, ukuran, penampilan dan berat karena ini tergantung pada faktor-faktor seperti operasi, jenis suhu sistem operasi dan aplikasi yang digunakan, perangkat yang terhubung dan aksesoris serta konfigurasi hardware notebook. Silakan cek kompatibilitas aksesori pihak ke-3 sebelum pembelian. Suhu lingkungan: 5 ° hingga 35 ° C / 41 hingga 95 ° F (operasi), -15 ° sampai 60 ° C / 5 sampai 140 ° F (non-operasional). Kelembaban relatif: 20% sampai 85% RH (operasi), 8% sampai 85% RH (non-operasional). Harap dicatat bahwa GB = milyar byte. 1GB setara dengan 1.073.741.824 byte.