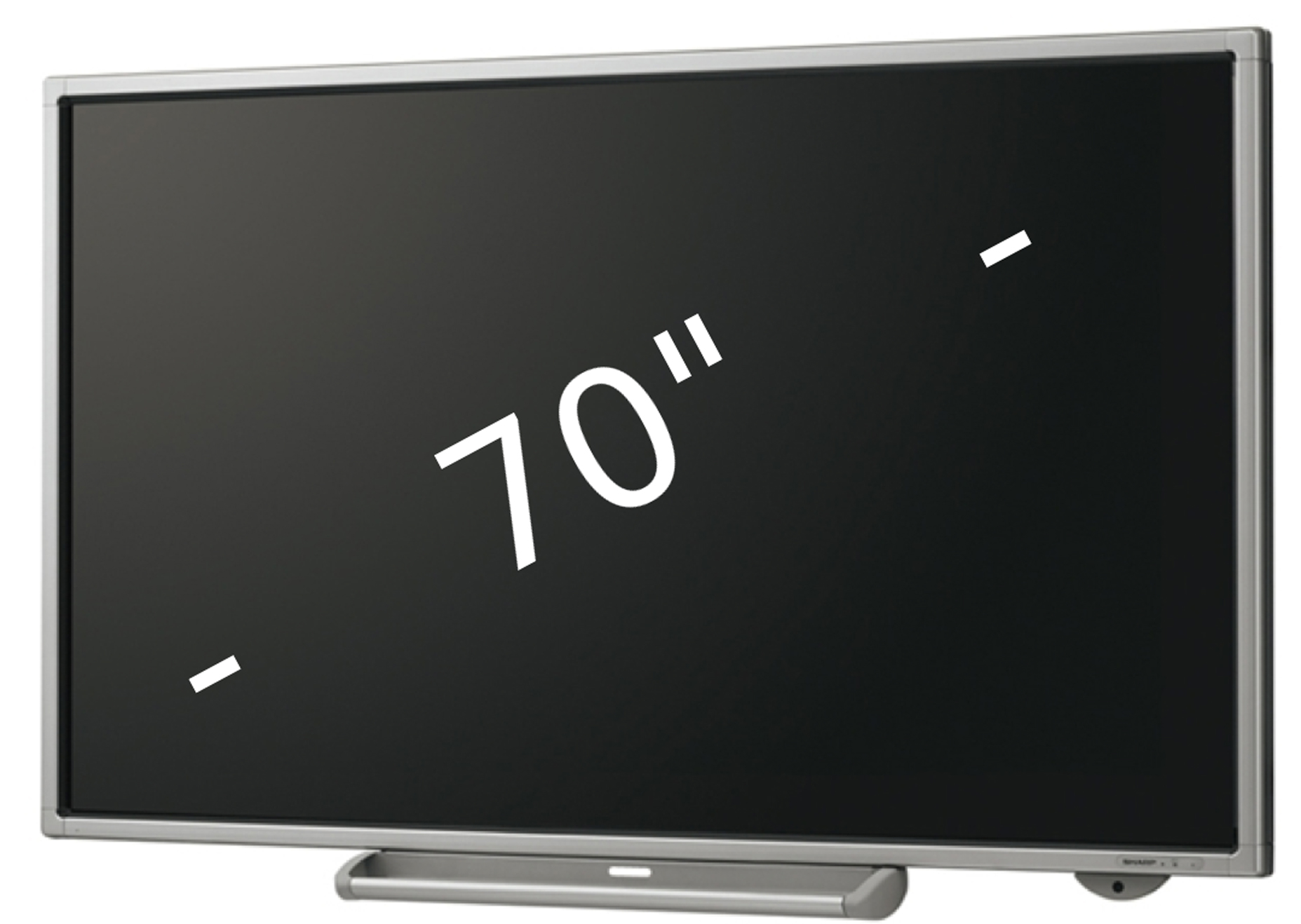 Spesifikasi Sharp Big Pad PN-L702B Wall Mount 70-Inch
Basic Specifications
Screen Size Class
70" (69.5" Diagonal)
Bezel Width
41 mm
Native Display Resolution
1920 x 1080
Maximum Brightness (average)
300 cd/m2
Landscape and Portrait Mode Operation
Landscape compatible
Certified for 24/7 Continuous Operation
Yes
Fanless Architecture
Yes
Audio
7W + 7W Stereo with built in speakers
LCD Type
UV2A LCD
Number of Colors (approx.)
1.06 Billion
Contrast Ratio 
3000:1
Aspect Ratio
16:9
Viewing Angle (H/V)
160º H x 160º V (CR>/=10)
Active Screen Area (approx.)
60-9/16" W x 34-1/16" H
Frame Rate
60 Hz
Pixel Pitch
0.802 mm H x 0.802 mm V
Video System
NTSC (3.58 MHz; 4.43 MHz), PAL, PAL60, SECAM
Computer Input - Video
Analog RGB (0.7 Vp-p) [75-ohm], Digital (conforms to DVI 1.0 standards)
Computer Input - Synchronization
Horizontal / Vertical separation (TTL: positive/negative), Sync on green, composite sync (TTL: positive/negative)
Computer Input - Plug & Play
VESA DDC2B
Power Management
VESA DPMS, DVI DMPM
Response Time
6 ms (gray to gray, avg)
Terminals
PC/AV Video Input
Analog mini D-sub 15-pin. DVI-D 24-pin HDCP Compatible (requires optional PN-ZB01); Analog 5-BNC (requires optional PN-ZB01; analog RGB and component are menu selectable).
PC/AV Audio Input
3.5 mm mini stereo jack
Video Input
Composite Video - BNC (requires optional PN-ZB01)
S-Video Input
5-Pin DIN (requires optional PN-ZB01)
Component Video
BNC (Y, Cb/Pb,Cr/Pr) (requires optional PN-ZB01; component video and analog RGB are menu selectable).
HDMI®
Yes - compatible for both PC and AV components
Audio (AV)
RCA pin (L/R) x 2 (requires optional PN-ZB01)
PC Output
DVI-D 24-pin (HDCP compatible, PC/AV signal; requires optional PN-ZB01)
Audio Line Output
RCA pin (L/R) - selectable fixed or variable line output
Speaker Output
7W + 7W Stereo (6-ohms; requires optional PN-ZB01)
LAN Port
RJ-45 (requires optional PN-ZB01)
RS-232C
D-sub 9-pin
Power Output Connector
Yes - 19V
Functions
Screen Adjustment
Auto (Clock, Phase, H-POS/V-POS) / Manual
Gain Control
Auto (Black level, Contrast) / Manual
Digital Scaling (expansion)
Yes (VGA/SVGA/XGA/SXGA -> 1920 x 1080)
Digital Scaling (compression)
1920 x 1200, 1600 x 1200
Main User Adjustments
Clock, Phase, H-POS/V-POS, Black level, Contrast; Color temp (15 steps preset + 5600K/9300K + User setting); Color mode (Standard/sRGB/Vivid); Gamma (1.8/2.0/2.2/2.4/User setting); Brightness, Volume, Audio (Treble/Bass/Balance), OSD-POS; Picture Adjustment (Tint, Color Intensity) [PC/AV mode]; R/G/B/Y/M/C independent adjustment [AV mode]
Information
Model No., Serial No. etc.
Real Time Clock Setting
Yes
Scheduling Function
Yes (time, day of the week)
All Reset
Yes
Reset
Screen/Picture/Audio adjustment setting, etc.
Adjustment Lock
YES (incl. Power button)
Daisy Chain (DVI-D)
Optional (PN-ZB01): max. 5 units (HDCP compliant)
Enlarge
No
Frame Width Adjustment
Yes
PinP / PbyP
Yes (PinP : 12 steps)
Power On Delay
1-60 seconds (with 1 second interval)
Audio Input Change
Yes
Picture Flip
No
Self Adjust
Yes (PC Analog Input)
Log Save / Output
Yes
Temperature Control
Yes
Hardware Diagnosis
Yes
Monitor Control Software Support
Yes
Web Browser Setting (LAN)
Optional (PN-ZB01)
E-Mail Notification
Optional (PN-ZB01)
SNMP
Optional (PN-ZB01)
Overscan Setting (AV Input)
Yes
Image Size Change Function
Yes
Resolution Change Function (PC analog)
Yes
RS-232C Communication Speed Change
Yes
Conversion of Stereo Audio to Monaural
Yes
Selection of Audio Input per image input
Yes
Internal / External Speaker Select
Optional (PN-ZB01)
Power
Power Consumption
240W Max. (with optional PN-ZB01 attached)
Standby Power Consumption
1.0 W
Power Source
100 - 240V AC, 50/60 Hz
Weight & Dimensions
Dimensions
Product Dimensions (wxhxd) (inches)
64-7/8" (W) x 38-11/16" (H) x 4-9/16" (D)
Package Dimensions (wxhxd) (inches)
72-1/4" (W) x 11-17/64" (H) x 43-23/32" (D)
Weight
Net Product Weight (lbs.)
154 lbs. (approx)
Shipping Weight (lbs.)
181 lbs. (approx)

Isi Paket Sharp Big Pad PN-L702B Wall Mount 70-Inch
1xSharp Big Pad PN-L702B Wall Mount 70-Inch

Ringkasan Produk Sharp Big Pad PN-L702B Wall Mount 70-Inch
Fitur
Spektakuler 70 "Kelas (69-1/2" diagonal) Ukuran Layar - dikombinasikan dengan Sharp UV2A foto teknologi keselarasan membantu menciptakan gambar warna yang cemerlang dengan dampak maksimum.

Penuh Array LED Backlight - posisi hemat energi LED putih merata di seluruh panel untuk kecerahan seragam, meningkatkan keandalan dan keterbacaan lebih besar teks.

High Performance Infrared Detection System - dengan beberapa sensor inframerah mendeteksi titik sentuh dengan akurasi yang lebih besar untuk meningkatkan kegunaan dan presisi. Buat rencana kerja, menyoroti topik kunci, file membubuhi keterangan dan banyak lagi - dan kemudian berbagi mark up dokumen atau mencetak hard copy untuk referensi di masa mendatang.

Intuitif tajam Pen Software ™ Application - memberikan dimensi baru dalam kontrol interaktif.
Memanfaatkan ujung jari atau pena sentuh Anda dapat membuka dan menutup dokumen, memperbesar atau mengecilkan gambar, bahkan membuat salinan cetakan keras. Perangkat lunak ini kompatibel dengan Windows ® 7, yang memungkinkan Anda untuk mengimpor Microsoft ® Office ® ​​dokumen termasuk presentasi PowerPoint ®.

User-Friendly Tool Bar - memungkinkan Anda memilih berbagai pilihan menggambar dengan sekali tekan sederhana dari sebuah ikon.

Touch Dual Interface - dengan dua jari, Anda dapat dengan mudah memperbesar, mengurangi atau memutar gambar.

Built-in Library of Backgrounds untuk digunakan selama presentasi - termasuk kalender, to-do daftar rencana, pertemuan log, grafik kertas dan tindakan. Mereka membantu membuat presentasi papan tulis lebih efektif karena Anda tidak perlu menciptakan bentuk-bentuk atau data template dengan tangan - Anda dapat pergi langsung ke ide-ide dan tindakan yang ingin Anda sampaikan.

Brilian, Big Screen Gambar untuk Digital Signage - untuk digunakan di tempat umum seperti perdagangan menunjukkan ruang pameran, lobi hotel dan konferensi daerah, koridor bandara dan lokasi ritel.
Direkayasa untuk 24/7 Penggunaan komersial - menyediakan Anda dengan keandalan dan daya tahan yang dibutuhkan untuk bisnis Anda.

Komunikasi Efisien melalui Direct Connection MFP - Dengan menghubungkan PN-L702B untuk Sharp terhubung ke jaringan MFP (multifunction produk), dokumen dapat dipindai dari MFP dan langsung diimpor ke perangkat lunak pena untuk ditampilkan pada PN-L702B. Gambar data juga dapat disimpan ke PC atau dikirim ke MFP untuk cetakan.

3 Tahun On-Site Garansi Terbatas - meliputi suku cadang, tenaga kerja dan backlight, baik dalam modus potret dan lansekap.

Kemampuan Antarmuka luas - termasuk sebagai interface standar HDMI ® masukan D-Sub 15-pin RGB input, masukan audio stereo, audio stereo line-output dan RS-232C input / output.

Opsional Input / Output Dewan Ekspansi (PN-ZB01) - menambahkan DVI-D input / output, 5-BNC RGB analog input, komponen input video, S-video input, input video komposit (BNC), audio stereo (RCA) masukan x 2, RJ-45 LAN kontrol layar dan output speaker stereo (7W x 2)
Opsional PC - menempel dengan mudah ke belakang layar untuk menampilkan solusi all-in-one interaktif. PN-TPC2W7A: Pentium ® 2,6 GHz dual-core PC dengan Windows ®: 7 Pro.

Tersedia sebagai Bundle (PN-L702B-PKG2A) - termasuk PN-L702B display, PN-TPC2W7A PC, dan PN-SR760M bergulir keranjang lantai berdiri 

Demo Video Produk Sharp Big Pad PN-L702B Wall Mount 70-Inch
SC/06/13