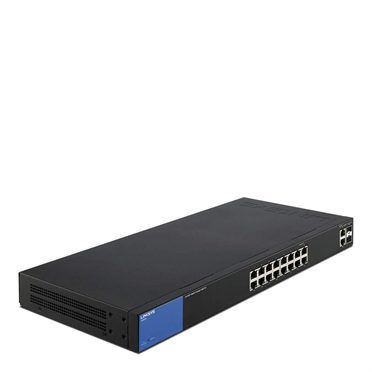 Spesifikasi Produk Linksys LGS318 18-Port Business Gigabite Smart Switch (LGS318-AP)
Security Lock:
802.1x Radius authentication 
DHCP snooping 
IP-MAC binding 
Port security supports limited dynamic lock and locked MAC address 
Management access control
Power Input:
100–240V 
50-60 Hz 
(0.7A max)
System Power Consumption without PoE+:
110V:13.55W 
220V:13.66W
Operating Temperature:
0 to 50°C (32 to 122°F) 
Operating Humidity:
10 to 90% RH 
LEDs:
System (blue), Link/Act (green) 
Network Standards:
IEEE 802.3 
IEEE 802.3u 
IEEE 802.3ab 
IEEE 802.3z 
IEEE 802.3x 
IEEE 802.3ad 
IEEE 802.3az 
IEEE 802.1d 
IEEE 802.1Q/p 
IEEE 802.1X
Management Interface:
HTTP 
HTTPS
SNMP:
Version 1 
Version 2c
Firmware Upgrade:
Web Browser (HTTP/HTTPS) 
TFTP
Model Name:
LGS318 
Storage Temperature:
-40 to 70°C (-40 to 158°F) 
Mac Addresses:
8K 
Storage Humidity:
10 to 90% RH (non-condensing) 
Total System Ports:
18GE 
Copper FE/GE Ports (RJ45):
g01–g08, g09–g16 
Combo Ports (RJ45 + SFP):
2 combo on ports g17, g18 
CPU Memory DRAM:
128 MB 
Green Power Mode:
EEE+, Short Reach + Energy Detect 
Forwarding Rate:
26.79 Mpps 
Switching Capacity:
36 Gbps 
Jumbo Frame (FE, GE):
9K 
VLAN:
Port-based and 802.1q tag-based VLANs, Management VLAN, Guest VLAN support, Dynamic VLAN assignment via Radius server with 802.1x client authentication 
HOL Blocking Prevention:
Head-of-line (HOL) blocking prevention 
Port Mirroring:
Traffic on multiple ports (up to four ports) can be mirrored to another port for analysis with a network analyzer 
RMON:
Embedded remote monitoring (RMON) software agent support for enhanced traffic management, monitoring, and analysis 
Other Management:
Telnet (menu CLI), DHCP client, system log, configuration unload and backup via HTTP or TFTP, PING, dual images, SNTP 
Link Aggregation:
IEEE 802.3ad LACP, up to 4 groups with up to 8 ports per group 
Storm Control:
Broadcast, flooding, and multicast 
Spanning Tree:
IEEE 802.1d Spanning Tree, IEEE 802.1w Rapid Spanning Tree 
IGMP Snooping:
IGMP (v1/v2/v3) snooping provides for fast client joins and leaves of multicast streams and limits bandwidth-intensive video traffic to only the requestors; supports 256 multicast groups 
QoS - Priority Levels:
4 hardware queues 
QoS - Scheduling:
Priority queuing and weighted round robin (WRR) 
QoS - Class of Service:
Port-based, 802.1p priority-based, IPv4/v6 IP DSCP-based 
Auto Voice VLAN:
VLAN Voice traffic is automatically assigned by OUI to a voice-specific VLAN and treated with appropriate levels

Berat dan ukuran Linksys LGS318 18-Port Business Gigabite Smart Switch (LGS318-AP)
Dimensions (LxWxH):
440 x 200 x 44 mm (17.3 x 7.9 x 1.7 in.) 
Weight:
2.378 kg (5.23 Ibs.) 

Isi Paket Produk Linksys LGS318 18-Port Business Gigabite Smart Switch (LGS318-AP)
Package Contens :
1x Linksys LGS318 18-Port Business Gigabite Smart Switch (LGS318-AP)
1x CD Driver
1x Manual Book

Ringkasan produk Linksys LGS318 18-Port Business Gigabite Smart Switch (LGS318-AP)
Feature :
Proven Performance and Reliability
Easy Configuration and Management
Advanced Network Security
IPv6 Support
Enhanced QoS
Enhanced Security
Meets EEE (Energy Efficient Ethernet) 802.3az standard
KUALITAS PELAYANAN ( QoS ) prioritas lalu lintas
Fitur QoS banyak memprioritaskan lalu lintas , ideal untuk real-time suara dan video aplikasi & grafis bandwidth yang tinggi atau upload video dan download .
JARINGAN EKSPANSI FITUR
Membangun mesh switch dengan mudah dengan fitur seperti Spanning Tree Protocol ( STP ) dan Storm Control . Mereka membantu mengontrol direncanakan atau kabel sengaja loop sehingga Anda dapat memperluas jaringan Anda dengan percaya diri .
ADVANCED NETWORK SECURITY
Memastikan data lolos ke klien yang berwenang hanya dengan Pelabuhan otentikasi dan keamanan pelabuhan MAC berbasis . Lanjutan DHCP mengintip dan IP - MAC mengikat fungsi menjamin integritas jaringan dan membantu mencegah serangan .

Gallery Image Produk Linksys LGS318 18-Port Business Gigabite Smart Switch (LGS318-AP)