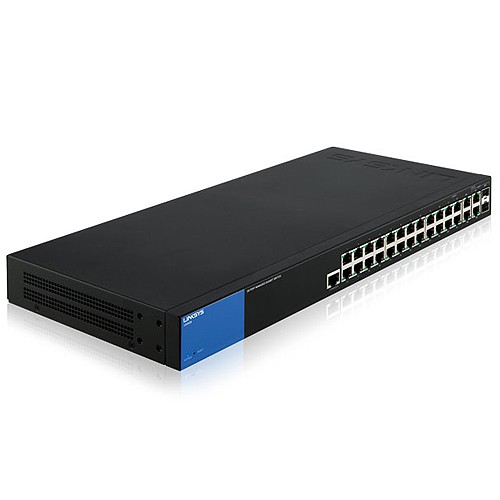 Spesifikasi Produk Linksys LGS528 28-Port Managed Business Gigabit Switch
Security Lock:
IEEE 802.1X radius authentication 
DHCP snooping 
IP-MAC-Port binding 
IP source guard 
ARP inspection 
STP root guard 
STP BPDU guard 
DHCP relay 
Port security supports limited dynamic lock and locked MAC address, 
Management access control
Access Control:
Support up to 512 rules for enhanced security and/or advanced QoS policy: allow, deny, or rate limit based on Layer1 to 4 protocol fields at packet header level with MAC ACL and IP ACL 
Power Input:
100–240V 
50-60 Hz 
(0.7A max)
System Power Consumption without PoE+:
110V: 19.4W 
220V: 19.71W
Operating Temperature:
0 to 50°C (32 to 122°F) 
Operating Humidity:
10 to 90% RH 
LEDs:
System (blue/yellow), Link/Act(green) 
Network Standards:
IEEE 802.3 
IEEE 802.3u 
IEEE 802.3ab 
IEEE 802.3z 
IEEE 802.3ae 
IEEE 802.3x  
IEEE 802.3ad  
IEEE 802.3az  
IEEE 802.1D  
IEEE 802.1w  
IEEE 802.1Q/p  
IEEE 802.1X
Management Interface:
HTTP 
HTTPS
SNMP:
Version 1 
Version 2c
Model Name:
LGS528 
Storage Temperature:
-20 to 70°C (-4 to 158°F) 
Storage Humidity:
10 to 90% RH (non-condensing) 
Total System Ports:
28GE 
Copper FE/GE Ports (RJ45):
g01–g13, g14–g26 
Combo Ports (RJ45 + SFP):
2 combo on ports g27, g28 
CPU Memory DRAM:
128 MB 
Green Power Mode:
EEE+, Short Reach + Energy Detect 
Forwarding Rate:
41.67 Mpps 
Switching Capacity:
56 Gbps 
MAC Address Table Size:
16K 
Jumbo Frame (FE, GE):
9K 
VLAN:
Port-based and IEEE 802.1Q tag-based VLANs 
HOL Blocking Prevention:
Head-of-line (HOL) blocking prevention 
Port Mirroring:
Traffic on multiple ports can be mirrored to another port for analysis with a network analyzer 
RMON:
Embedded remote monitoring (RMON) software agent support for enhanced traffic c management, monitoring, and analysis 
Other Management:
Telnet (menu-driven), DHCP client, system log, configuration unload and backup via HTTP or TFTP, PING, dual images, SNTP 
Link Aggregation:
IEEE 802.3ad LACP, up to 4 groups with up to 8 ports per group 
Storm Control:
Broadcast, unknown-unicast, and multicast 
Spanning Tree:
IEEE 802.1d Spanning Tree, IEEE 802.1w Rapid Spanning Tree 
IGMP Snooping:
IGMP (v1/v2/v3) snooping provides for fast client joins and leaves of multicast streams and limits bandwidth-intensive video traffic to only the requesters; supports 256 multicast groups 
QoS - Priority Levels:
4 hardware queues 
QoS - Scheduling:
Priority queuing and weighted round robin (WRR) 
QoS - Class of Service:
Port-based, IEEE 802.1p priority-based, IPv4/v6 IP DSCP-based 
Auto Voice VLAN:
VLAN voice traffic is automatically assigned by OUI to a voice-
specific VLAN and treated with appropriate levels 

Berat dan ukuran Linksys LGS528 28-Port Managed Business Gigabit Switch
Dimensions (LxWxH):
440 x 200 x 44.45 mm (17.32 x 7.87 x 1.75 in.) 

Weight: 
2.43 kg (5.36 lbs.) 


Isi Paket Produk Linksys LGS528 28-Port Managed Business Gigabit Switch
Package Contens :
1x  
Linksys LGS528 28-Port Managed Business Gigabit Switch

Ringkasan produk Linksys LGS528 28-Port Managed Business Gigabit Switch
Feature :
Two combo mini-GBIC (SFP) ports
Layer 3 static routing
IPv6 Support
Advanced QoS
Advanced Security
Meets EEE (Energy Efficient Ethernet) 802.3az standard
KEMAMPUAN PENGELOLAAN ADVANCED JARINGAN
Fitur canggih termasuk Layer 2 dan Layer 3 Switching Static Routing antara komunikasi VLAN yang berbeda tanpa penurunan kinerja untuk jaringan yang lebih efisien. Linksys 500 Series Switches mengelola routing internal dengan router Anda dan mendedikasikan jalur tetap untuk lalu lintas eksternal dan keamanan.
Layer 2 dan Layer 3 MAC Kebijakan IP Arus berbasis dan Tingkat Membatasi Kontrol memprioritaskan lalu lintas, yang menawarkan solusi ideal untuk mengelola dan mengendalikan real-time, bandwidth yang tinggi, lalu lintas suara dan video tanpa memperlambat aplikasi bisnis Anda yang lain.
Daftar ekstensif Access Control (ACL) kontrol dan blok bagian dari jaringan dari pengguna yang tidak sah dan serangan jaringan eksternal, sedangkan DHCP mengintip, IP dan MAC-Port fungsi Binding membantu memastikan integritas jaringan. IEEE 802.1X Keamanan Pelabuhan ketat batas akses ke segmen tertentu dari jaringan Anda, dan Port Otentikasi dan MAC berbasis Keamanan Pelabuhan memerlukan klien untuk mengotentikasi diri sebelum data apapun berlalu.
DUKUNGAN FIBER OPTIC-NETWORK EXPANSION
Tambahan Gigabit SFP + Fiber Optic-pelabuhan ekspansi memberikan kombinasi yang kuat dari skalabilitas bisnis untuk setiap lingkungan pusat peternakan server dan data, dan meningkatkan tuntutan bandwidth tinggi sambil memberikan redundancy untuk pertumbuhan jaringan yang mudah dan cepat. Mini Gigabit Interface Converter (mini-GIBC) port ekspansi menawarkan pilihan untuk menambah atau konektivitas uplink Gigabit Ethernet serat optik untuk ini switch dikelola.


Gallery Image Produk Linksys LGS528 28-Port Managed Business Gigabit Switch