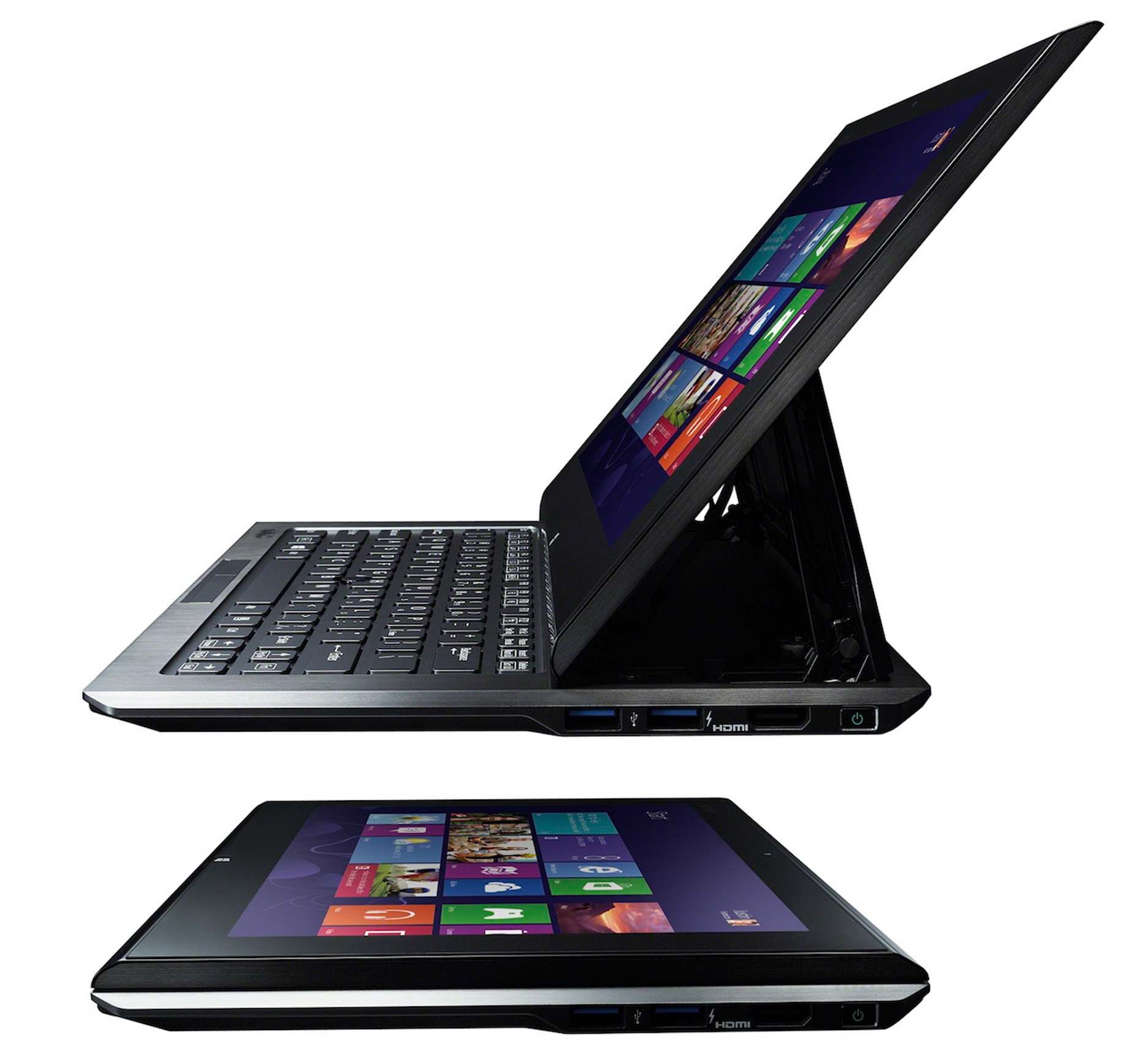 Spesifikasi Sony VAIO Duo 13 SVD13213CXW Core i5
Processor
Processor Type : Intel® Core™ i5-4200U
Processor Technology : Dual Core
Processor Speed : 1.60GHz1 with Intel® Turbo Boost Technology up to 2.60GHz2
Processor Cache : 3MB
Memory
Installed Memory : 4GB (4GB x 1)
Memory Type/Speed : LPDDR3/1600MHz
Max. Memory : Fixed
Hardware
Camera : Front 2.0 MP Full HD Web Camera powered by Exmor R® for PC and Rear 8.0 MP Camera powered by Exmor RS® for PC and microphone
Keyboard : QWERTY, 83 keys with 1.0mm stroke and 19.05mm pitch
Backlit Keyboard : Yes
Wireless/Networking
Bluetooth® Technology : Bluetooth Standard (4.0 + HS)
Wi-Fi® Adapter : Broadcom® BCM43241 (802.11a/b/g/n)
WiDi Ready : Yes - Intel® Wireless Display Technology9
NFC : Yes
General
Security : Intel® Identity Protection Technology, Intel® Anti-Theft Technology14
Action Buttons : ASSIST, Windows
Pointing Device : Clickable Touchpad (Gesture Supported)
Software
Operating System : Genuine Windows 8 64-bit
Supplied Software : Microsoft® Office trial, VAIO Care™, PlayMemories Home™, ArtRage® Studio Pro
Anti-Virus Software : Kaspersky® Internet Security 30-Day Trial Offer12
Graphics
Graphics Processor : Intel® HD Graphics 4400
Graphics Video RAM : Internal
Maximum Resolution HDMI : 1920 x 1080
Audio
Sound System : Intel® High Definition Audio with ClearAudio+
Power
Battery Type : Internal Lithium Polymer Battery (VGP-BPS36 6320mAh)
Battery Life : Up to 10 hours
Display
Screen Size : 13.3"
Resolution : 1920 x 1080
Touch Technology : Capacitive Touchscreen
Display Technology : Full HD, Triluminos Display for Mobile, Digitizer Support
Backlight Technology : LED
Storage
Storage Type : Serial ATA Solid State Drive
Storage Capacity : 128GB4
Inputs and Outputs
DC-In : 1
USB 3.0 : 1 + 1 (Charge)
Headphone Output : 1
HDMI® Output(s) : 1
Headphone Output + Microphone Input : 1
Memory Stick + Secure Digital : 1
Environmental Information
ENERGY STAR® : 5.1
ROHS® : Compliant
EPEAT™ : Silver
Weights and Measurements
Dimensions (Approx.) : 13.00" (W) x 0.77" (H) x 8.27" (D)
Weight (Approx.) : 2.93 lbs. (with Internal Battery)

Isi Paket Sony VAIO Duo 13 SVD13213CXW Core i5
1xSony VAIO Duo 13 SVD13213CXW Core i5
1xInternal Lithium Polymer Battery (VGP-BPS36 6320mAh)
1xDigitizer Pen (VGP-STD1)
1xAC Adapter
1xPower Cord

Ringkasan Produk Sony VAIO Duo 13 SVD13213CXW Core i5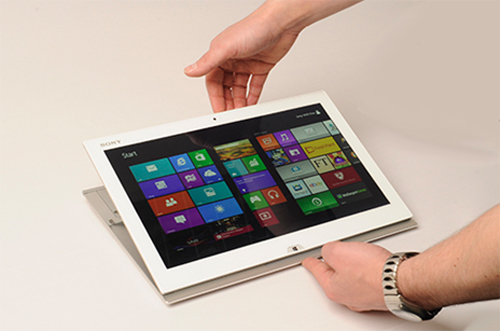 Halus Surf Slider ® desain
Desain Slider ® Surf yang unik dan tahan lama memungkinkan transisi mulus antara tablet dan mode laptop. Berinteraksi dengan tablet dengan menggunakan stylus atau jari Anda pada layar sentuh kapasitif 10 poin. Bila Anda membutuhkan kecepatan tombol nyata, cukup geser layar kembali untuk mengungkapkan keyboard. Ini serat karbon tahan lama desain tipis dan ringan sangat cocok untuk pengguna mobile di mana saja.

Aktif, bahkan saat tidur
Bangun Anda VAIO ® Duo 13 dan melanjutkan dalam waktu kurang dari satu detik. Selama mode tidur Anda VAIO ® Duo terhubung ke Internet dan aplikasi Anda berjalan dan siap untuk pergi. Anda dapat langsung memeriksa status email yang masuk dan komunikasi lainnya seperti dengan smartphone. Dan dengan baterai yang tahan lama, Anda dapat tetap terhubung untuk semua mobilitas hari.

ArtRage ® Studio Pro
ArtRage Studio Pro berisi semua alat dari ArtRage Studio: minyak, cat air, dan pena tinta sehingga mudah untuk menghasilkan karya seni tampak alami pada komputer Anda. Versi ini sangat ideal bagi para seniman yang perlu mengedit proyek-proyek mereka secara lebih mendalam, mendukung Photoshop ® filter yang kompatibel, dunia nyata pencampuran warna, stiker diedit pasca-semprot, dan banyak lagi.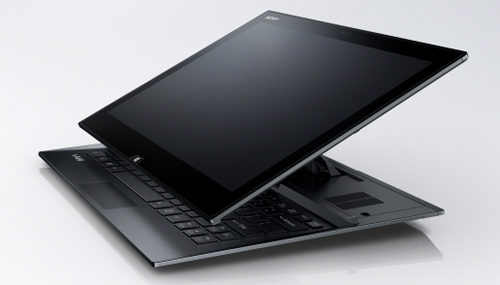 Sederhana multi-gesture touchpad
Multi-gesture touchpad adalah cara yang paling intuitif untuk berinteraksi dengan laptop Anda. Gulir dengan dua jari, mencubit untuk memperbesar dan memperkecil gambar, geser untuk membolak-balik halaman atau foto, dan Anda bahkan dapat memutar foto, dan banyak lagi. Gunakan touchpad Anda dengan cara yang sama seperti jika Anda menyentuh layar. Babatan dari kanan untuk mengungkapkan pesona atau kembali ke layar awal. Babatan dari kiri untuk beralih ke aplikasi terakhir Anda digunakan.

Memindai dokumen Anda
Cam Scanner adalah aplikasi pemindaian dokumen yang memungkinkan Anda untuk mengedit, mengatur dan melacak beberapa dokumen. Gunakan kamera 8 megapiksel Exmor RS ® untuk mengambil foto dari dokumen atau catatan tertulis di papan tulis. Aplikasi ini secara otomatis memindai dan luruskan distorsi. Anda dapat berbagi dokumen ke aplikasi catatan untuk mengedit atau menambahkan catatan. Mudah mencari file diarsipkan menggunakan teknologi OCR.

Nikmati PC Anda pada HDTV Anda
Streaming wireless semua hal yang Anda sukai-film, foto, website, dan lebih-live dari PC ke HDTV.9 Anda

Sony Media Apps
Pengalaman konten Anda tidak seperti sebelumnya dengan Media Apps Sony. Kami menyatukan yang terbaik dari teknologi state-of-the-art Sony untuk memberikan pengalaman yang luar biasa. Anda mendapatkan konektivitas tanpa batas di semua perangkat Sony yang kompatibel dengan konten Anda. Berbagi dan bermain dengan konten Anda yang Anda pilih. Akses cepat dan mudah ke konten yang disimpan secara lokal, di server DLNA ®, atau dari PlayMemories online ™.

Digitizer Stylus
Digitizer stylus memberikan kinerja yang tepat yang memungkinkan Anda untuk menulis, menggambar, dan ketuk layar sentuh dengan mudah. Dengan setiap stroke, digitizer stylus menangkap bahkan nuansa paling halus dari tekanan, memungkinkan Anda untuk menyesuaikan garis berat, ukuran kuas, dan lebih lagi dengan menekan lebih keras atau lebih lembut dengan pena. Ketika pena dekat layar, sensor sentuh dinonaktifkan sehingga Anda dapat mempertahankan posisi nyaman menulis, bahkan meletakkan telapak tangan Anda pada PC. Dua tips disertakan, memungkinkan Anda untuk mensimulasikan bekerja dengan berbagai kesenian tradisional dan bahan desain.

Di ujung tombak teknologi SSD
Dapatkan lebih cepat boot-up, peluncuran aplikasi lebih cepat dan peningkatan kinerja secara keseluruhan. Dan tentu saja, karena teknologi SSD meliputi bagian yang bergerak, Anda mendapatkan solusi penyimpanan lebih tahan lama lebih rentan terhadap kerusakan fisik.

Night Shift
Inovasi praktis adalah landasan dari visi Sony, dan keyboard kita tidak terkecuali. Keyboard ini memiliki tombol tepat direkayasa untuk menciptakan pengalaman mengetik yang nyaman dan intuitif. Ketika mengetik dalam cahaya redup, backlight LED menciptakan cahaya yang menyenangkan, framing kunci individu dan menerangi huruf untuk membuatnya lebih mudah untuk menemukan kunci yang tepat.

Handiest port sekitar
Lupa untuk mengisi daya ponsel atau pemutar mp3? Hanya pasang perangkat Anda melalui kabel USB ke USB port charge tidur dan mulai pengisian. Bahkan jika PC dimatikan dan tidak terpasang di Anda masih bisa menggunakannya. Dan jangan lupa bahwa port USB 3.0 sangat cocok untuk menghubungkan hard drive eksternal yang kompatibel dan memungkinkan Anda untuk menunggu kurang dan mentransfer data hingga 10x lebih cepat dari USB 2.0.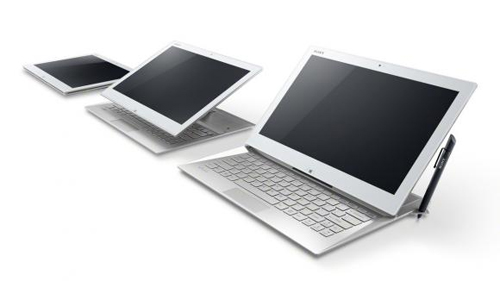 Aktif Clip ®
Lihat gambar di web yang akan menjadi tambahan yang bagus untuk presentasi Anda? Gunakan ® Clip Aktif untuk melacak atau menggambar garis freehand menggunakan pena digitizer sekitar gambar. Dengan deteksi tepi cerdas Anda dapat dengan cepat memotong gambar dalam hitungan detik dengan deteksi otomatis tepi. Kemudian simpan presentasi Anda, clipboard atau Catatan Anytime untuk VAIO ® PC di mana Anda dapat menulis atau menggambar di atasnya, simpan, atau mengirimkannya ke seseorang di e-mail.

PC tune-up dan perawatan mudah
Dengan versi terbaru dari VAIO Care ™ perangkat lunak Anda mendapatkan yang mudah digunakan alat yang memungkinkan Anda tune up, memperbarui dan memecahkan masalah VAIO ® Anda PC. Hanya tekan tombol ASSIST untuk menginstal mudah dan menghapus perangkat lunak dan driver yang baru, menggunakan antarmuka visual untuk dengan cepat mengidentifikasi dan memecahkan masalah, membuat restore dan media pemulihan, dan terhubung dengan ponsel Sony, chatting atau dukungan online ketika Anda perlu berbicara dengan Sony ahli.

Lebih warna yang cemerlang dari sebelumnya
The 13,3 "Full HD 1920 x 1080p LCD touchscreen dengan TRILUMINOS Tampilan menciptakan sangat benar, nuansa alami warna - seperti yang Anda ingin melihat mereka. Berkat teknologi generasi baru yang membuat warna lebih murni dan lebih jelas dengan berbagai warna yang lebih luas, memberikan gambar rasa tinggi mendalam. Dilengkapi dengan IPS (in-plane switching) teknologi sehingga Anda dapat menikmati gambar tajam dari setiap sudut pandang - sempurna untuk memberikan presentasi penting atau menonton blockbuster hit terbaru.

Depan dan belakang kamera menghadap
Foto Snap dan video menembak dari dunia di sekitar Anda dengan kamera belakang 8 MP didukung oleh sensor Exmor RS ® Sony. Ada juga menghadap ke depan Lengkap kamera web HD didukung oleh Exmor R sensor ® yang sempurna untuk chatting on-line atau menangkap kejenakaan Anda sendiri. Dengan menakjubkan kinerja cahaya rendah dan teknologi pelacakan wajah yang memungkinkan kamera untuk secara otomatis menyesuaikan dan membuat Anda tetap dalam fokus saat Anda bergerak.

Koneksi one-touch
Cepat berbagi musik dan URL dengan perangkat yang kompatibel. Lihat website yang sama yang ada di smartphone Anda dari VAIO ® PC Anda. Dengan NFC (Near Field Communication), itu semua terjadi hanya dengan menekan perangkat yang kompatibel bersama-sama pada ikon sentuh. Menghubungkan perangkat belum pernah ini mudah.

Dukungan industri terkemuka
Tidak ada standar tentang standar Sony garansi terbatas pada komputer VAIO ®. Kami meliputi suku cadang dan tenaga kerja untuk perbaikan tertutup. Dan kami memiliki luas on-line dukungan di mana Anda dapat chatting dengan rekan dan akses driver, pembaruan perangkat lunak, FAQ, forum pengguna dan banyak lagi. Atau jika Anda suka, Anda bisa menghubungi kami pada phone.8 Kami di sini untuk membantu.

Perhatikan Anytime untuk VAIO ® PC
Perhatikan Anytime untuk VAIO membantu Anda dengan mudah membuat catatan menggunakan digitizer stylus atau keyboard. Catatan ini mengambil dan alat organisasi tidak hanya akan mengubah tulisan tangan ke teks, tetapi juga memungkinkan Anda menambahkan sentuhan kreatif Anda sendiri dengan menggambar pada layar sentuh dengan jari atau stylus sehingga Anda dapat memasukkan tangan diagram digambar atau gambar. Anda dapat mengatur catatan Anda dengan subjek atau proyek tertentu, dan bahkan menambahkan gambar yang Anda klip dari web menggunakan Active Clip ® atau langsung dari album Anda.

VAIO ® Movie Creator
Cepat dan mudah membuat film seperti yang Anda suka dari foto Anda sendiri atau video. Meningkatkan film Anda dengan pilihan Anda 45 tema desain dan musik. VAIO ® Movie Creator menambahkan transisi dan efek otomatis sehingga film Anda terlihat dipoles dan profesional. Setelah film Anda siap, berbagi di Facebook ®, YouTube ™, atau jejaring sosial lainnya dan situs berbagi video. 
SC/0713 

Demo Video Produk Sony VAIO Duo 13 SVD13213CXW Core i5

Sony VAIO Duo 13 Pro SVD1321APXB Core i7-4500U
Sony VAIO Duo 13 Pro SVD1321APXB Core i7-4650U