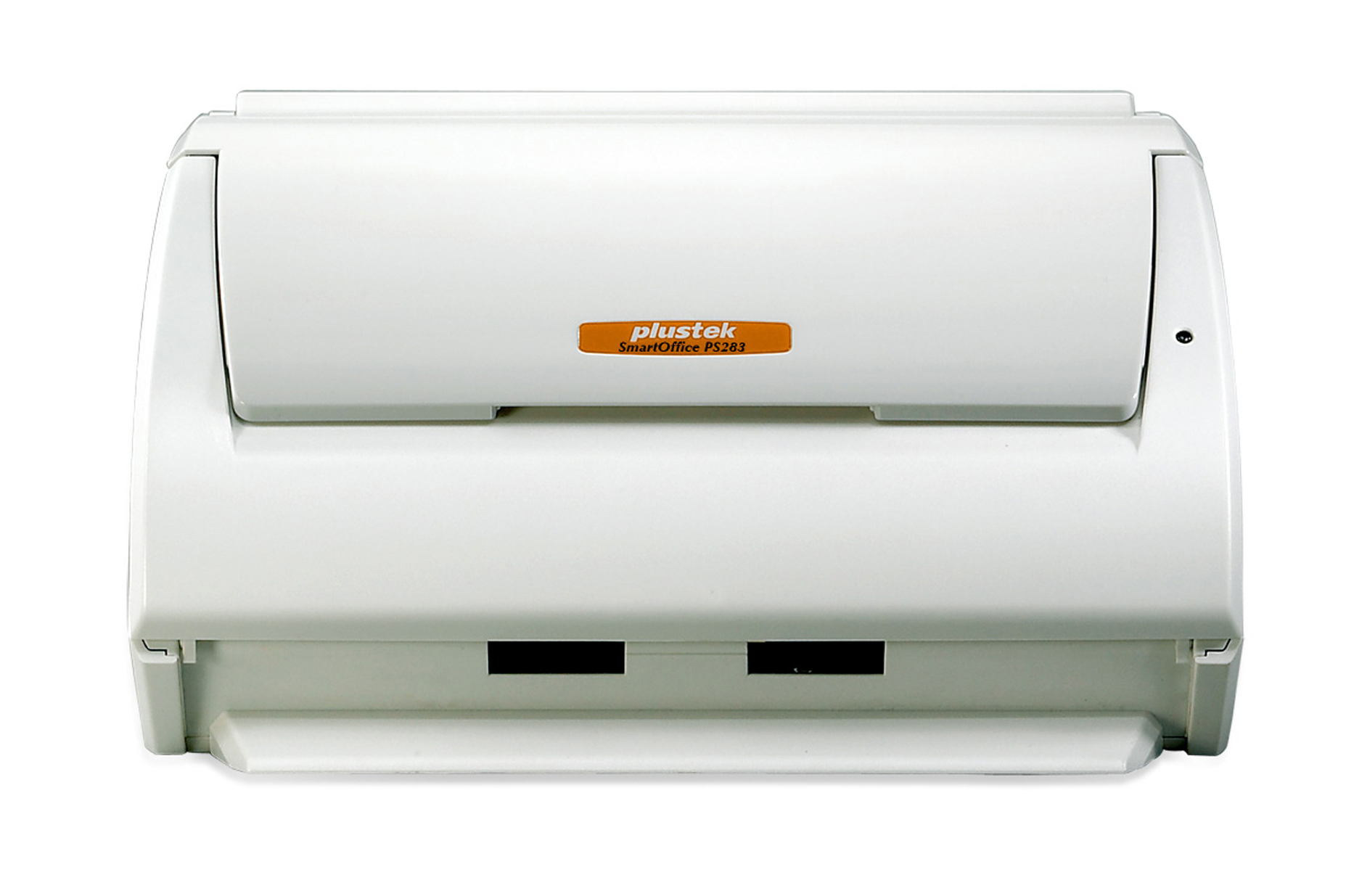 Spesifikasi produk Plustek SmartOffice PS283
Image Sensor  
CIS
Light Source  
LED
Optical Resolution  
600 dpi
Hardware Resolution  
600 x 600 dpi
ADF Capacity  
1. 50 sheets (A4/ Letter, 70 g/m or 18 Lbs), Maximum thickness under 5mm (0.2").
2. 20 sheets (Business Card)
Note: Maximum ADF capacity varies, depending upon paper weight.
Scanning Speed ( ADF )  
25 ppm (Grayscale mode, 200 dpi, A4 Portrait)
25 ppm (B&W mode, 200 dpi, A4 Portrait) 
5 ppm (Color mode, 200 dpi, A4 Portrait)
Note: Results may vary depending upon your scanning application, computer processor and system memory.
Scanning Area (W x L)  
Maximum: 216 x 356 mm (8.5" x 14")
Minimum: 13.2 x 13.2 mm (0.52" x 0.52")
Acceptable Paper Sizes (W x L)  
Maximum: 220 x 356 mm (8.66" x 14")
Minimum: 50.8 x 50.8 mm (2" x 2")
Acceptable Paper Weight (Thickness)  
50 to 105 g/m (14 to 28 Lbs)
Daily Duty Scan ( Sheets )  
1,500
Roller Lifetime (Scans)  
100,000
Pad Lifetime (Scans)  
20,000
Action Button  
Scan, File, Custom (PDF)
Power Supply  
24 Vdc/ 0.75 A
Interface  
USB 2.0
Net Weight  
1.66 Kgs (3.66 Lbs)
Dimensions (W x D x H)  
263 x 127.5 x 148 mm (10.36" x 5.02" x 5.83")
Protocol  
TWAIN Compliant
OS   Windows 2000 / XP / Vista / 7 / 8
Hardware Requirements  
Pentium® IV 2.0 GHz processor (Pentium IV 3.0 GHz processor recommended)
CD-ROM Driver
One available USB Port (USB 2.0 recommended)
1GB RAM or higher recommended
800 MB free HDD space (1 GB or larger recommended) 

Ringkasan produk Plustek SmartOffice PS283
Plustek 25 ppm SmartOffice PS283 menawarkan cara yang fleksibel dan produktif untuk memindai dan mengelola semua informasi berbasis kertas Anda. Dari kartu nama untuk dokumen ukuran hukum, mereka semua dapat dipindai dan disimpan sebagai PDF dicari dengan satu sentuhan tombol. SmartOffice PS283 cocok untuk aplikasi yang membutuhkan footprint kecil, biaya scanner dokumen yang efektif.

Termasuk manajemen dokumen dan kartu nama perangkat lunak pemindaian
SmartOffice PS283 dilengkapi dengan bundel software canggih termasuk manajemen dokumen, membaca kartu nama, Optical Character Recognition (OCR), dan perangkat lunak pencitraan. Aplikasi ini menyederhanakan tugas scanning dan mengelola dokumen Anda.
Satu sentuhan untuk memindai langsung ke format file umum dan tujuan lebih

DocAction Plustek yang membuat pemindaian sederhana seperti menekan tombol. Dengan Plustek SmartOffice PS283, Anda dapat memindai langsung ke dicari format file gambar umum PDF dan lainnya dan kemudian mengirim dokumen dipindai ke email, printer, folder atau situs FTP. Yang harus Anda lakukan adalah menekan tombol pada pemindai! SmartOffice PS283 juga mencakup industri driver TWAIN standar, yang memungkinkan scanner yang akan digunakan dengan ribuan manajemen dokumen dan gambar program diaktifkan.

Mudah diangkut dan ideal untuk aplikasi vertikal
Footprint kecil PS283 dan kemampuannya untuk memindai kartu kaku seperti kartu asuransi, kartu kredit dan kartu keanggotaan membuat yang ideal PS283 untuk aplikasi seperti: pendaftaran pasien, farmasi resep scanning, akuntansi, deposit remote dan banyak lagi. Driver TWAIN termasuk memastikan kompatibilitas dengan aplikasi Anda. Lingkungan Bertanggung jawab dan Hemat Energi

SmartOffice PS283 bertanggung jawab terhadap lingkungan dan mudah digunakan pada saat yang sama berkat sertifikasi STAR enery nya, daya rendah LED teknologi pencahayaan dan fungsi hemat daya.

Fitur
SmartOffice PS283 memiliki fitur sebagai berikut:    

Auto Threshold
Secara otomatis ambang gambar ini menjadi gambar hitam dan putih biner. 

Auto Rotate
Otomatis memutar dokumen berdasarkan isi dokumen. 

 
Tanaman Auto & Deskew
Secara otomatis meluruskan dan tanaman gambar untuk dokumen ukuran sebenarnya. 

Modus Auto
Secara otomatis mendeteksi warna dokumen dan memindai dokumen dalam warna, grayscale atau mod hitam & putih
Warna Dropout
Menghapus warna merah, hijau atau biru saat pemindaian bentuk.Halaman Removal KosongSecara otomatis menghapus halaman kosong tanpa editing manual.